As if it were a lighthouse, a family workshop with Anna Irina Russell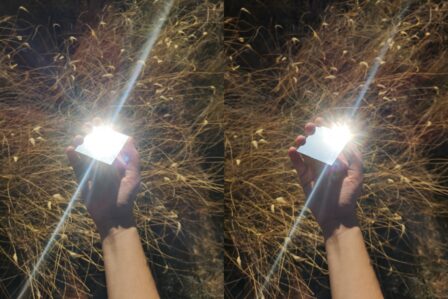 Hangar Pimpam returns in September with a workshop to talk, tell and speak without words. Artist in residence Anna Irina Russell proposes working with light as a tool for research and communication. Starting from the language of lighthouses, which not only serves to warn ships of the proximity of the coast, but also allows them to recognize, differentiate and relate to each other thanks to the different intervals and shades of their light, this workshop is an invitation to explore other forms of communication using light as the main element; a device to play with reflections, flashes and vibrations, with what can be and cannot, in order to create codes and discover hidden messages.
Date: Saturday, September 21
Time: 11 am – 1.30 pm
Participation fee: €15
From 6 years old
Pimpam is part of the educational program of Hangar that aims to link contemporary artistic practices with family and children, as a space for creation and learning in the community. With this program of activities and workshops specillay conceived for children and families, the aim is to create a laboratory, a place a to learn and work closely with the neighborhood and the local context.
Anna Irina Russell's artistic practice revolves around the playful as a tool for research on codes and forms of communication and interaction. Her body of work recreates absurd situations to decipher established social constructions. She is interested in dynamiting the relationships between body, space and object from the bewildering and unusual, using interfaces as a space for interaction. She is attracted by error, noise and distortion as they accentuate the way we understand "reality".
Pimpam is coordinated by Priscila Clementti Collado.
Please, fill in the form below to enroll.