Key elements of the art ecosystem and the artist's professional practice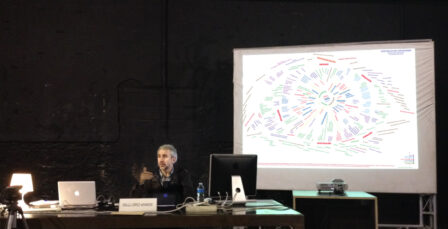 This seminary aims to build a reflexive and mediated approach to the legal aspects of the art world in the state context – some of which are currently such as the Statute of the Artist, the Patronage Law, economic activity or copyright -, themes that are constantly being debated, open to dialogue and to the contributions of the creators themselves. Necessary elements to know and analyze in order to move in the artistic field with a holistic conception of their spaces and relations.
The United Nations as a Educational, Scientific and Cultural Organization (UNESCO) adopted the "Recommendation concerning the Status of the Artist" in 1980. It states that the arts are an integral part of life and that it is necessary for governments to contribute to creating the material conditions that facilitate these manifestations. Culture also has added value in terms of its contribution to GDP, with the capacity to employ a significant proportion of the working population.
The cultural sector has, however, been demanding for more than forty years the establishment of a legal framework that assures the artist the necessary conditions for the development of his activity. The Statute of the Artist, the Author/Creator and the Cultural Worker can be that legislative tool that allows to guarantee economic and labour rights to cultural workers or to facilitate them; even though the Patronage Law can help to promote, assist, stimulate and/or promote cultural and artistic expressions with private contribution.
Free course with previous registration.
Program
Friday, 1st of june
– The Patronage Law: Borja Álvarez Rubio
– The Art Ecosystem and the Artist´s Statute: Isidro López- Aparicio
– Copyright: Eva Soria
Saturday 2nd of june, 2018 10:00 – 14:00
Isidro López-Aparicio y Marta Pérez Ibáñez
– Economic Activity and artists
– Practica analysis of cases related to the vindications of the Artist's Statute: Tax, fiscal and professional matters, public administration and codes of good practice, contracts, associations and trade unions, training, copyright and intellectual property matters.
Duration: 9 hours
Dates and schedule: 1st of june, 16 – 21h / 2nd of june 10 – 14h
Registraation Fee: free. To register, please fill out the form.
Workshop given by:
Direction: Isidro López-Aparicio (artist, curator and university professor)
Guests: Borja Álvarez Rubio (Deputy Director General of Cultural Industries and Patronage, MECD), Marta Pérez Ibáñez (art market specialist) and Eva Soria (Lawyer, expert in copyright, university lecturer and coordinator of visual arts at the Institut Ramon Llull)