Sensorial Initiation at 16mm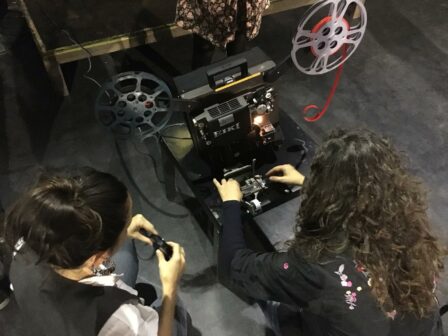 NO VACANCIES
Filming, developing and projection from the senses.
Starting from the idea of cinema as experience, recovering its essence as mechanics and art, this workshop seeks to provide the necessary and initiatory tools for the creation (film-revelation and projection) of a collective film in 16mm, considering it a senso-film experiment.
Proposing a creative process aimed at taking the protagonism out of the gaze behind the objective and listening only to the sound recording, not only sight and hearing will be stimulated in the different practices, but also touch, smell and taste in a set of individual and collective ceremonies of re-appropriation of the stages of filmic creation through the body.
1. First approach to the alphabet: About emulsions and types of films. Recipes, formulas and processes. Some references for inspiration.
2. Discovery of the mechanics and secrets of a Bolex. About the dark and sweaty load of a reel. (Touch, hearing and taste)
3. Collective filming of moving skins. Temporalities, overprints, and fades with closed eyes and open pores. (Vision, touch, hearing and mathematics)
4. Developing, steam and tears. Immersion in the black and white process (negative and reversible). From the auditory acuity of the spiral charge, to meditation in the patient gloom of an intoxicated revelation. (Hearing, touch, smell)
5. Projection, manipulation and final possession. Tractions, obturations, incinerations, and movements for an improvised lighting performance (Hearing, touch and vision).
Duration: 12 hours
Dates: Monday, September 9 from 3 to 9 p.m. | Tuesday, September 10 from 3 to 9 p.m.
Price: 20 €
Inscription here.
Observations
The results of the workshop will be projected during the Open Workshops in Poblenou, on 13 and 14 September. The workshop will provide all the necessary materials and devices for filming, developing and projecting the final result.
ADRIANA VILA GUEVARA filmmaker/artist dedicated to the exploration of the materiality and immateriality of cinema and as an action, performance or installation. Co-founder of the Barcelona independent analogue film laboratory Crater-Lab, dedicated to the production and programming of analogue experimental film, as well as research and training through theoretical and practical workshops on experimental film in super8,16mm and other argentine and analogue formats. She has given workshops and seminars in different art centers, educational and film festivals in Europe, Latin America and the United States, along with her performances and pieces of expanded cinema that have been seen among others in: Spain (LOOP Festival, La Virreina, Europes International Festival, L'Alternativa, La Pedrera Festival de Prop, Primavera Sound, Sonar, Mostra de Cinema periferic S8, MEM), Italy (Analogica Film Festival) Argentina (Bienal de la imagen en movimiento BIM), Cuba (Festival de Videoarte de Camagüey), Brazil (Museo da Arte Moderna da Bahia, Curtas Belo Horizonte, Dobra cine experimental), Venezuela (Cinemateca Nacional, Museo de Bellas Artes), Mexico (Centro de Cultura Digital, Laboratorio de Experimentacion Cinematográfica, Centro de las Artes de San Agustín), Colombia (Bogotá International Documentary Exhibition), France (Le 102, le Periscope, RE-MI Bains Argentics), Switzerland (Cave 12, Oslo10 Gallery), Germany (Schmalfilmtage), United States (Microscope Gallery, Millenium, Echo Park film Center, Crossroads film Festival, MonoNoAware Festival), Holland (Rotterdam Film Festival IFFR).