Live coding with TidalCycles, with TOPLAP and Alex McLean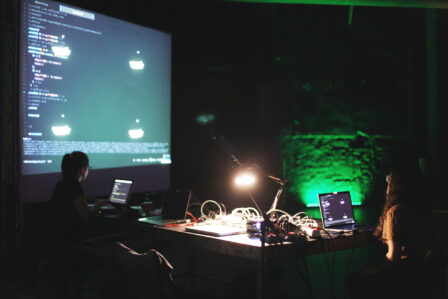 TOPLAP collective in residence teaches a live coding workshop in Hangar. Live coding is a performing art form and a creativity technique focused on real-time writing of source code, through interactive programming, which is used to create sound or image in real time. Tidal is a coding language that allows live coding based on patterns. This workshop consists of two modules (it is not necessary to attend the second one) in order to introduce language tools and and to delve into the use of Tidal as a composition tool. The second module will be bed by Tidal's creator, Alex McLean.
TidalCycles describes itself as follows:
"TidalCycles (or' tidal 'for short) is free / open source software, that allows you to make patterns with code, whether live coding music at algoraves or composing in the studio. It includes language for describing flexible (e.g. polyphonic, polyrhythmic, generative) sequences. It also has an extensive library of patterning functions, for transforming and combining them. Tidal is highly composable in that pattern transformations can be easily combined together, allowing you to quickly create complex patterns from simple ingredients. Tidal does not make sound itself, but is designed for use with the featureful SuperDirt synth, and can control other synths over Open Sound Control or MIDI. Whether you're using SuperDirt or a synth, every filter and effect can be patterned and manipulated independently with Tidal patterns. Tidal is embedded in the Haskell language, although you don't have to learn Haskell to learn Tidal – most tidal coders have little or no experience in software engineering. "
Live coding with advanced Tidal
Dates: November 7 and 8, 2019
Schedule: from 5 p.m. to 8 p.m.
Participation fee: €25
With Alex McLean
Language: English
To enroll, please, transfer €25 to this bank account ES84 2100 3043 4622 0046 2224 and send the receipt to formacio@hangar.org. Mail subject: Tidal TOPLAP workshop.