Group of reading and pornographic thought, by Lucía Egaña. Institute of Porn Studies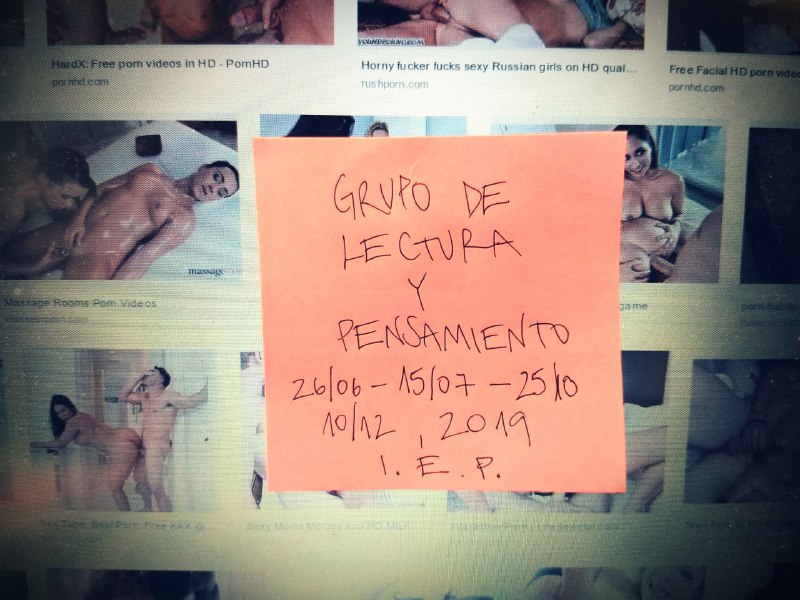 This activity is part of the training programme of the Institute for Porn Studies in collaboration with Hamaca and Hangar. The Institute offers theoretical-practical workshops, reading groups and public viewing sessions. This first course contemplates an approach to textual and theoretical production, as well as audiovisual, graphic and technological production. It is aimed at all those who have an interest in approaching pornography from multiple dimensions and points of view.
After the complete training itinerary, specialization certificates will be issued.
4 sessions on: 26 June, 15 July, 25 October, 10 December.
Timetable: from 6 p.m. to 9 p.m.
Place: Hangar
Free enrolment for all persons enrolled in any of the courses of the Institut of Porn Studies. Registration fee of 20 € for people who only want to participate in this activity.
In these four sessions of the reading and thinking group we will review four major themes or blocks that go through feminist debates and sexual dissidence on sexuality, pornography and postpornography. The sessions are proposed as meetings to debate and raise doubts in relation to the paths opened by each of the texts and thematic blocks.
More than the theoretical, stark approaches, we seek to analyze the vital implications of these discourses and proposals, considering their political and creative dimensions, as well as the relationship with our own sexual configurations and practices.
Committed and regular participation is requested as the only requirement. The dynamics of the sessions do not imply the obligatory reading of all the suggested texts but only of some. The same suggested texts may change during the course.
– Session of Wednesday 26 June. Manifestos
– Session of Monday 15 July. Pornography and feminism (in the Kingdom of Spain)
– Session of Friday, October 25. BDSM (lesbian, sick, feminist, non-commercial)
– Session of Tuesday, December 10. Postporn drifts in Spanish
++
Lucía Egaña has a degree in fine arts, a master in documentary and holds a Phd in audiovisual communication with a thesis on postpornography and transfeminism. She is currently part of the academic direction of MACBA Independent Studies Program, where she coordinates the line of body technologies, and until very recently has been resident in Hangar. Her artistic, pedagogical and research practice is linked to transfeminism, representation, sexuality, free software, North-South relations and error. She has published two books, Enciclopedia del amor en los tiempos del porno (Cuarto propio, 2014) and Atrincheradas en la carne, readings on post-pornographic practices (Bellaterra, 2017) and she participated in different anthologies and publications. She is the organizer of the dissident pornography festival Muestra Marrana, is part of the project M.A.M.I. (Museo Arqueológico del Machismo Inmemorial or Museo Antimachista Multi Inteligente, etc.), of the Instituto de Estudios del Porno and of the collectives minipimer.tv, Real Archivo Sudaca and Cooperativa de Técnicas.