The Machine to Be Another, a familiar workshop with BeAnotherLab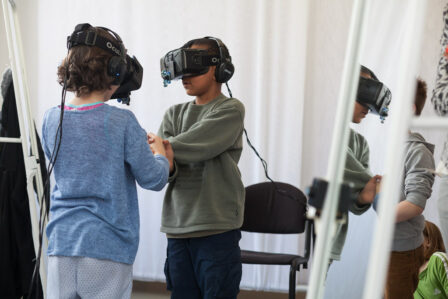 [CANCELLED WORKSHOP] How do we perceive who we are? What would it be like to be another, another? The BeAnotherlab residence group proposes a family workshop to play with virtual reality and some theater techniques, to hack the senses and collectively investigate body illusions, spatiality and interpersonal and intergenerational relationships.
The session will begin with different games and dynamics of theater and body movement as a warm-up to express emotions without words or sounds. Afterwards, some body-perception exercises will be developed, such as "levitating arms" or "chills", games to become aware of the body, its plasticity and the space it occupies. The third part of the workshop will consist of working with others: games and group activities that will give way to "the machine to be another", a virtual reality experience that allows "changing the body between two people" and discovering how technical tools can help to reflect on empathy, the connection with others and the environment.
Date: December 14 New Date: January 18
Time: from 11:00 a.m. to 1:30 p.m.
Participation fee: €15
From 6 years old
Pimpam is part of the Hangar training program that aims to link artistic practices with family and children audiences. A shared space of creation and learning in common.
With this program of activities and workshops around contemporary artistic creation aimed at girls, boys and families in general, it is sought to generate a laboratory, a place of knowledge and experimentation that looks at the neighborhood and the local context. A place to make and learn from different proposals, understanding artistic expression as a tool for education in a sensory and active way.
Pimpam is coordinated by Priscila Clementti Collado.
BeAnotherLab is an artistic collective and interdisciplinary research group founded in Barcelona in 2012, and which developed the project The Machine to Be Another(TMBA).
The group works at the intersection between art, science and technology, questioning the hierarchies between these different forms of knowledge. The group is committed to the invention of new models of sustainability collaboration, and is not based on individuals, but rather on the idea of ​​sharing and expanding identities and communities.
To enroll, please send and email to formacio@hangar.org