Program of studies on philosophy and computing arts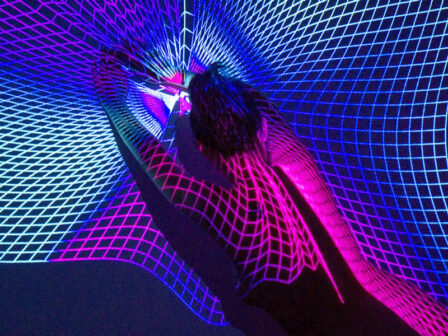 September 2018 – July 2019
The Program of Studies on Philosophy and Computing Arts 2018-2019 aims to generate technological artistic creation and critical thinking from the intersection of philosophy, computational art and technoscience.
Aware that the classroom may be the laboratory from which to break the molds of normalization and capitalist reproduction, this program of studies is constituted as a space for the critical investigation of the human-computer symbiosis, for artistic technological creation as a tool for individual and political liberation, and for the synthesis of theory and practice in experimental devices and actions that test new realities.
From 2015 the educational program in digital arts and philosophy led by Libertar.io in Hangar has welcomed some 200 participants from ten countries in America, Asia and the Mediterranean, using an experimental pedagogical approach that addresses training processes as living open-source practices capable of configuring new knowledge, methodologically overcoming the segmentations of academic disciplines, dissolving the vertical relationship between teacher and student, and the distance between theory and practice.
FORTHCOMING ACTIVITIES
The schedule of the workshops is, in all cases, from 18.30 to 21.30
Course: Art of Code: Algorithms, Generativity, and Intelligent Machines
Dates: September 3, 5, 7, 10, 12, 17, 19, 21, 24  2018
Hours: 18:30-21:30
Duration: 27 hrs
Fee: €150
Course: Space Image: Videomapping, Expanded Cinema and Augmented Reality.
Dates: October 8, 10, 12, 15, 17, 19, 22, 24, 26 2018
Hours: 18:30-21:30
Duration: 27 hrs
Fee: €150
Course: Interactive Systems and Computer Vision. Performative and Architectural applications.
Dates: December 3, 5, 7, 10, 12, 14, 17, 19, 21, 2018
Hours: 18:30-21:30
Duration: 27 hrs
Fee: €200
Study Group / Bookclub: The body machine
Philosophies on body-machine assemblies. Selected readings from Donna Haraway, Gilles Deleuze and Félix Guattari, Sherry Turkle, Manuel Delanda, Brian Massumi.
Dates: Sep 20, Oct 25, Nov 22, Dec 13, 2018
Hours: 19:00-21:00
Fee: Free
Advice for Digital Arts projects
Which tools should i use for a specific task? Where to find information, resources and similar projects? Which steps to take to develop a functional prototype? 
Monthly meeting for the solution of technical problems exchanges and creation of synergies.  
Dates: Sept 27, Oct 18, Nov 29, Dec 20, 2018
Hours: 19:00-21:00
Fee: Free
More info at lab(at)ibertar.io