SF Trans*Plant. Theoretical-practical introduction to bio-hacking through the chimeric mirror.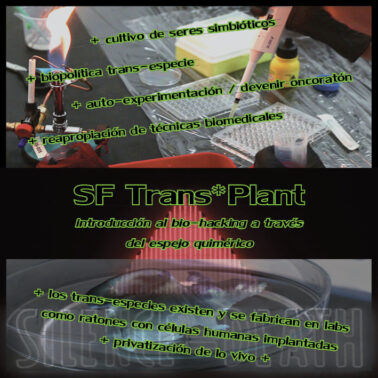 SF Trans*Plant. Theoretical-practical introduction to bio-hacking through the chimeric mirror is a workshop held by Quimera Rosa in Hangar on November 18 in parallel to the course The affirmative thinking of Rosi Braidotti directed by Laura Benítez at the Institut d´Humanitats and Rosi Braidotti's lecture in the cycle Human Animals, CCCB.
This journey through the chimeric mirror is based on two years of biomedical research from the Trans*Plant project, on the ethical issues they have encountered along the way as well as they commitment to self-experimentation and becoming OncoMouseTM. This research is based on two parallel processes that they have been developing: "My disease is an artistic creation" whose aim is to replicate and release a medical technique called Photodynamic Therapy (PDT) to treat condylomata of HPV and the second aimed at developing a protocol for the first intravenous chlorophyll in humans.
The Trans*Plant project aims, with different techniques, tools and practices, to generate crosses and hybridations between the human and the plant. In order to be able to think of a non-anthropocentric ecology, we need to move from identities based on essences to identities based on relationships. A process of human transition > plant that includes a protocol of intravenous chlorophyll, and with the fantasies, fears and judgments that this generates, opens the debate on the identity system at stake. A process of self-experimentation that has nothing individual since the people who accompany it walk with it. Getting a pure chlorophyll molecule knows the same obstacles as getting testosterone from the pharmaceutical and biomedical industry as from the legal and health system. It is the very set of life that is patented.
Four axes structure the activities of the workshop:
– Cultivation of symbiotic beings / New creatures created
Composite preparation for plant cells and mycorrhizal fungi. Contributing human material: cells, hormones or bacteria, using various biomedical techniques. Each participant will make their own symbiotic cultivation during the workshop. We will provide materials, tools and collective knowledge to do so.
– OncoMouseTM Trip
The OncoMouseTM is the first animal created in a laboratory and then patented. The first RFID chips have been tested on a mouse about twenty years ago and their use became widespread for the identification of livestock and companion species (dogs, cats and their human owners). The first cyborg was a mouse developed in a laboratory in the 1960s in the context of the space race. The becoming cyborg is first and foremost an animal becoming.
– Self-experimentation / Becoming OncoMouseTM
Reappropriation from the artistic practice of the body defined as sick and the different biomedical techniques to intervene it. BDSM nurses in white coats. Pleasure / pain. Generate knowledge that breaks taboos related to the sick body. A body is always a sick body and, by considering the illness as part of life itself, it can be used as a creative tool to deconstruct the normalization processes produced by the notion of a healthy body.
– Art / Science
Collective reflection on how a transdisciplinary investigation can be established when art is related to science. Performativity of laboratory life, the notion of objectivity and truth in play. Visual representation systems (drawing, photo, video, 3D…) have modeled disciplines such as biology, used as verification systems (Foucault). We will ask ourselves what translation tools to implement when talking about notions such as body, life, truth, representation, illness, sexuality, individual, expertx…
Aimed at: people who question their identity or want to experiment with it. There is no need for specific knowledge but curiosity in going through the mirror.
The workshop will be wheelchair accessible.
Calendar and duration: Sunday 18 November from 15 to 21 hours. Yes, on a Sunday afternoon in Barcelona… we will have a snack all together. Bring something if you want.
Registration fee: 20 € (includes material costs). If you can't pay all the tuition you can propose an exchange, write to contact(at)quimerarosa.net but for registration write to laura(at)hangar.org
Quimera Rosa is a laboratory of experimentation and research on identities, body and technology, created in Barcelona in 2008 and nomadic since 2014. From a transfeminist and post-identity perspective, we make the body a platform for public intervention, in order to generate ruptures in the border between the public and the private. We conceive sexuality as an artistic and technological creation and we seek to experiment with hybrid, flexible and changing identities that blur the boundaries between natural/artificial, normal/abnormal, man/woman, hetero/homo, human/animal, animal/plant, art/politics, art/technology, reality/fiction, art/science. Particularly interested in the articulation between art, science and technology, as well as their functions in the production of subjectivity, our work is currently focused on the development of performances and transdisciplinary projects, on the elaboration of electro-sound devices that work with bodily activity and bio-hacking experiments. Most of our work is done collaboratively and always free of patents and proprietary codes.
http://quimerarosa.net/transplant/
SF
String Figures
Science Fact
Science Fiction
Speculative Fabulation
Speculative Feminism
So Far
D. Haraway, "Staying with the Trouble: Making Kin in the Chthulucene"
Bioart is a "tactical biopolitics" (da Costa and Philip, 2008). If Foucault understood biopolitics as the disciplinary forms for the optimization, coercion, and control of biology, then bioart organizes itself around them to divert, derail, or expose those domination regimes and "life" management systems.
E. Kirksey and S. Helmreich, "The emergence of multispecies ethnography". Cultural Anthropology 25.4 (2010). Trad: Quimera Rosa.