Workshop: "Pirates, Prophets and Parasitoids, configure your digital life"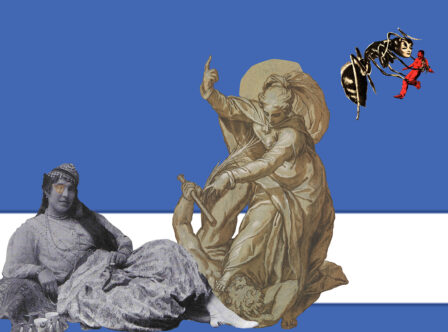 By Christina Schultz and Daniel Canet.
This workshop is a proposal of a common search to think and practice new digital strategies from humour to respond to an unsatisfactory and overflowing network. Parasitization and piracy means making the great centralist and influential platforms our own. We want to use the tools of the internet in a responsible and playful way to foster collectivity, put listening into practice, debate and share ideas and devise possible lives.
Program
1st session
First of all we will analyze how each one moves in the digital/real world in order to put into practice new visions and detect leaks. We will consult artistic projects that subvert the net, we will interpret the tools we need to lead a healthy and communicative digital life.
Through a reading of the social internet tarot we share our digital lives and analyze the functions and needs of the most commercial tools (FB, Twitter, Snapchat, Tumblrs, Blogs, websites, newsletters, tolls, surveys, calls etc.). What are our needs and how do we respond?
We look at alternative networks, simple platforms and our use of mail. We will discuss what expectations we have of the network and social media. Entertainment or Tool? How we communicate with people and how we would like to be communicated.
We consult other artistic references who have worked on their access to social media and how they communicate (Beatriz Sanchez, thenofaceproject, Glass Room, bots by Daniel Canet and Oriol Fontdevila, Joana Moll). We have a guest, Violeta Majoral, who presents us her audiovisual artistic works.
We divided ourselves into working groups and elaborated an action on the internet putting into practice a collective communication strategy.
2nd and 3rd session
We elaborate our different campaigns with different strategies and we will edit them on paper.
We analyze the different online dissemination tools: surveys, games, calls, newsletters, crowdfunding, etc.
Daniel Canet, bot-builder, creative technologist and digital strategy consultant advises us on our proposals for interventions on the network.
4th session
Prophetic party of the elaborated strategies. Open door session with beers.
For this session we will have prepared the forms of our campaign and the strategy applied in manual mode (Do's and Dont's) for future projects.
Calendar: October 10, 11, 18, 26, 2018
Schedule: From 18:30h to 21 h
Registration fee: 25€. If you cannot pay the fee you can propose an exchange by writing to: contact(at)christinaschultz.com