Carrito Garaje Móvil by DDB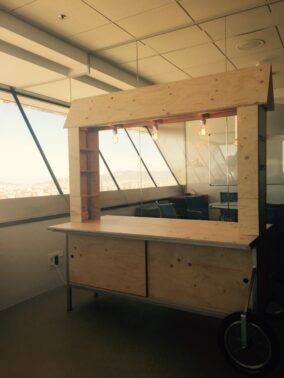 DDB
Construction and assembly
This is a project carried out for the DDB communication agency located in Torre Mapfre of Barcelona, which consists in the construction of a car inspired by the typical Food Trucks.
Its function will be that of an electronic experimentation table. Above, a laboratory with various electronic components (3D printer, raspberry pi, arduino, etc.) will be installed, although it will also serve as a showcase for projects and oddities, as well as a base for carrying out some demonstrations.
The construction of the car was carried out in the Hangar Construction Workshop. The financing has been thanks to DDB and the place of presentation has been the DDB agency itself.