Curvar a Miguel es arruinar las baldosas by Jorge Satorre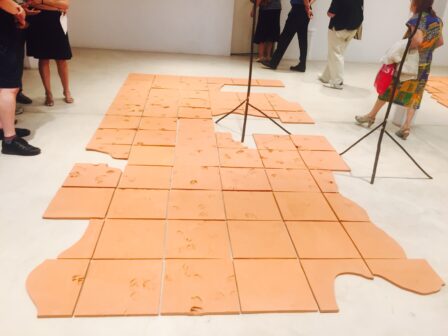 Construction and assembly
Curving Miguel is ruining the tiles. Double Miguel as a tile floor is ruined. A tiled floor as if Miguel were curving. Miguel bent over like a ruined tile floor. A ruined potter is a disappointed artisan. Tiles trodden by a dog smelling the footsteps of some boars is an anomaly. A dog sniffing the footsteps of some boars is a story. An anomaly is a disappointed potter. A disappointed potter is a craftsman who recognizes himself. An artisan who recognizes himself is a ceramist who breaks the rules. A comedian who recognizes himself is Miguel. A comedian who broke the rules is Miguel disappointed. Miguel disappointed is a curved comedian. Miguel Curved is a comedian looking out. An anomaly is a pimple in the ass. A pimple in the ass is the truth. An anomaly is Miguel disappointed.
From the Hangar Construction Workshop was carried out, on the one hand, the elaboration of 120 soft ceramic pieces and, on the other hand, a series of green laurel branches with specific shapes.
The 120 soft ceramic pieces were placed in a remote area of Parc de Collserola for a family of wild boars to walk over leaving their tracks. Later and with the same purpose, a dog was also made to pass. Once the traces were marked on the soft ceramic pieces they were baked in a ceramic oven. Finally, both soft ceramic pieces and laurel branches were transported to the exhibition site.
This is a project financed by the BlueProject Foundation and that has been presented at the same foundation.