Exhibition Stuttgart- Barcelona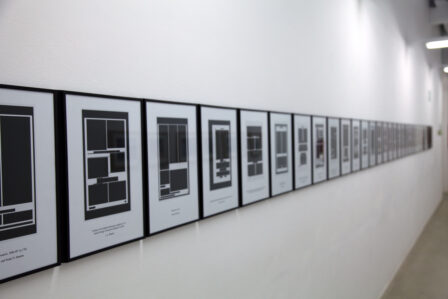 Exhibition Stuttgart- Barcelona 
Luis Guerra, Mario Santamaría, Bea Stach and Kaspar Wimberley/ Susanne Kudielka
Production of works and installation of the exhibition
July 2015
Exhibition of the results from the exchange scholarships Stuttgart-Barcelona.
Luís Guerra
Del acaecimiento de Formación: Cuatro Estudios Para El Que No Existe.
Video installation.
Mario Santamaría
Concealment Algorithms.
Photographic document of the operation of this mechanism, showing image, title, author and
page of the text that has been processed.
Bea Stach
Polvo, Barcelona.
Documentation of the dust of different places of Barcelona that becomes an audiovisual, digital and material form which reproduces in a direct way the space and time.
Susanne Kudielka / Kaspar Wimberley
21 Wobbly Tables, Propped Up Using 44 Euros.
Photos that refer to the current debate on economic policy in Barcelona, Spain and Europe, continuing the project Waiting For Something (Bad) To Happen that emerged at the Casino Luxembourg Forum d'Art Contemporain.
From The Other To The Us.
Performance, streaming.
The artists sent a message for live streaming from Stuttgart using the traffic light alphabet. In this message, the artists reflect on their time in Barcelona and their cultural and linguistic attempts to understand the catalan desire of an own state.
Place of presentation of the project: Goethe-Institut Barcelona
Financing: Hangar, Goethe-Institut Barcelona, Württembergischer Kunstverein Stuttgart, Kunststiftung Baden-Württemberg, Land Baden-Württemberg and the Generalitat of Catalonia.