HybridPLAY (Lalalab Projects)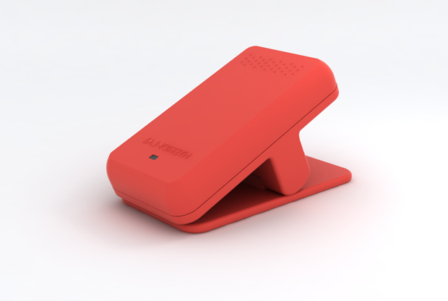 HybridPLAY, by Lalalab Projects.
April-June 2015
Electronic device
Project Description:
HybridPLAY is a device that combines traditional and digital video games, creating a new type of games specially designed to take place in urban areas. The main objetive is to boost physical activity and social interaction between children (and parents).
Hybrid Play consists of a sensor hooked by a clamp mechanism to recreational playgrounds elements, transforming them into physical interfaces to control our mobile phone games.
Hybrid Play sensor captures the data (speed, incline, etc ..) movements which children perform on the swing, to jump off the slide, the balance on the horse, etc .. These data are sent to the mobile phone and they become actions that control the different games: jumping, running, turning, hitting, etc ..
HybridPlay combines physical and digital interaction to create experiences of outdoor play in which the characteristics of digital games combine with dynamic strategies play in the street, verbal and body language and group play.
The electronic prototype has been developed in the laboratory of interaction Hangar.
Hangar services used: Interaction Lab.
Funding: Lalalab Projects
HybridPLAY website