L'Espai invisible by David Bestué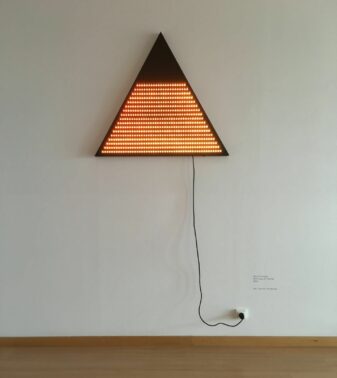 Construction and assembly
"Pyramid / clock" is a structure with a triangular surface that houses an electronic system that turns on and off the 720 leds attached to the front. At 00: 00h all the LEDs are off and from the minute that follows, 00: 01h, they go on in ascending order at the rate of one LED per minute. At 12 o'clock the whole surface of the piece is illuminated and from the minute that follows, 12: 01h, the upper LEDs go off, leaving the piece completely off at 00:00 h at night.
In this way, the piece works like a clock that separates the day in two moments. When it starts, the LEDs / minutes gradually accumulate until they form a luminous pyramid just in the middle of the day, and then begin the process of reduction and final termination.
On the one hand, the perception of the time that could be had with a standard clock changes. On the other, the analogy with the pyramid allows us to pose the piece as the illustration of a structure composed of LEDs / stone that is assembled and dismantled every day.
The most physical part of the construction of the pyramid / clock has been carried out in the Hangar Construction Workshop, although some of the more industrial components have had to be outsourced. The programming of the LEDs and their lighting has been developed in the Interactive Laboratory. Assembly, welding and testing have been done jointly between the two laboratories.
The financing of this project has been possible thanks to the Centre d'Art Contemporani Piramidón and its exhibition has been held in the same center.