NOVUM Festival Ciència, Tecnologia i Innovació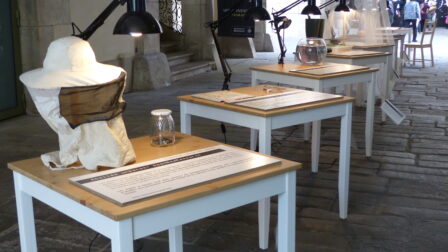 NOVUM Festival Ciència, Tecnología i Innovació
Several
Construction and montage
27/03/2015
Manufacturing, construction and dismantling of a set of elements built in the construction workshop for Novum Festival 2015 celebrated in Hub Barcelona and Virreina.
The first part was an exhibition at the entrance of Virreina Barcelona. There were ten tables distributed in the place with a set of elements which mixed science and technology. Several of these elements have been built in the construction workshop.
The second part was in Disseny Hub Barcelona. For this place were built some barrows from oil drums for cars.These were converted in a kind of barrows/ counters which could be moved by wheels and had a hand grip to make them more mobile. They also had a kind of folding support for workshops.
During the assembly in Hub there were put several laser cut bulbs made from paperboard on the tents which were located all over the place. The drums were also installed everywhere and several pieces were located in the space.                
Services used in Hangar: Construction workshop
Place of project presentation: Palau de la Virreina and Disseny Hub Barcelona
Financing: Deputation of Barcelona