Rosi Amor by David Bestué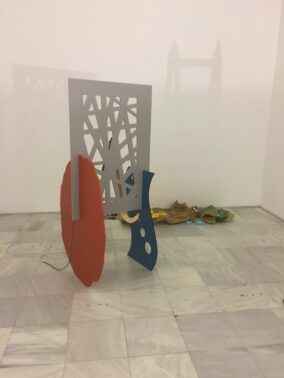 Construction
In "ROSI AMOR", Bestué carries out a material and formal investigation inspired by the Madrid neighborhoods of Las Tablas and Vallecas, as well as the Monasterio del Escorial. Each of these places are associated with different sculptural techniques that are identified, in turn, with the aesthetics of the business, popular and historical fact.
From the Hangar Construction Workshop the most industrial pieces that make up the exhibition have been produced.
An example of what was built is a set of three sheets of methacrylate, of different thicknesses, cut with numerical control. The pieces were hung on the wall and, between the wall and the iron, hung a pendulum with an abstract shape that was moving. A sculptural group with the same format and an old trunk lid, made with a chipboard of wood, was also built.
From molds pieces were created an ancient vase, cast with resin and human skull dust; five oranges, also cast with resin and with loads of different materials; and a reproduction of a pigeon, cast with resin and load of a specific type of brick, that was part of a larger piece made of cast iron and that had a mechanism that made the pigeon was enclosed and that only came out during a minute a day.
All the mechanism and lighting of this last piece was carried out in the Hangar Interactive Laboratory.
This is a project financed by the Museo Reina Sofía and presented at the same center.