Silver Songs by Javier Panera / Loop Barcelona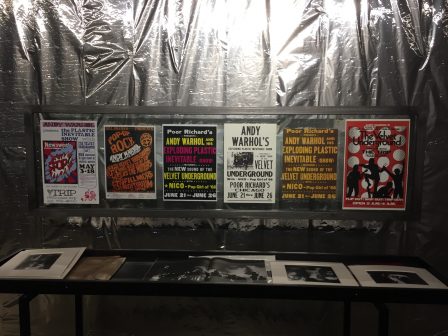 Javier Panera / Loop Barcelona
Construction and assembly
The music of Andy Warhol, tries to demonstrate that music was one of the emotional, iconographic and conceptual substrates on which the artistic production of the father of Pop Art was built. We speak of an invisible component, but essential to understand his creative process and some of the most significant thematic axes of his work. Warhol demonstrated throughout his career an omnivorous musical culture, which included opera, dance, Hollywood music, avant-garde music and pop songs of any style. From Maria Callas to Elvis Presley, from John Cage to The Velvet Underground and from Count Basie to Michael Jackson, including icons such as Nico, Mick Jagger, John Lennon or Debbie Harry, one of his last muses.
The starting point of this exhibition is an aspect of the artistic production of Andy Warhol considered marginal until recently: his contribution to the history of musical graphic design. The artist made between 1849 and 1987 more than 60 album covers of all musical genres. Analyzing these designs it is understood that in many of these covers are anticipated formal and iconographic solutions that later incorporated in his pictorial and cinematographic production. This fact confers on these works a spatial value for researchers, since it leads them to propose a transversal reading of their work.
The exhibition is structured in various sections, ordered thematically and chronologically, through which a genealogy of the relations between art and popular music during the second half of the 20th century can be traced. In each chapter, the album covers are exhibited together with works with different supports: photographs, drawings, serigraphs, books, magazines, posters, films, video installations, screen tests, music video clips and other objects and documents made by Warhol and artists of his circle, such as Ronald Nameth, Nat Finkelstein, Fred W. McDarrah, Christopher Makos, Hervé Gloaguen, Richard Bernstein or Dan Munroe, who help us understand the world in which musical graphic design and the plastic and audiovisual production of this artist were re-powered over almost four decades.
From the Hangar Building Workshop, all the metal panels where the exposed discs went were produced, assembled and disassembled. The panels were made of a metal profile and a double glass surface to fit the discs. This system allowed to see the discs cleanly and, at the same time, protected them from the humidity that the space had. In the same way, Hangar was also responsible for covering the entire aluminum foil factory in order to imitate the Andy Warhol Factory.
The project has been financed by the Ajuntament de l'Hospitalet de Llobregat and has been presented at the Antiga Fàbrica Can Trinxet.