Suprasensible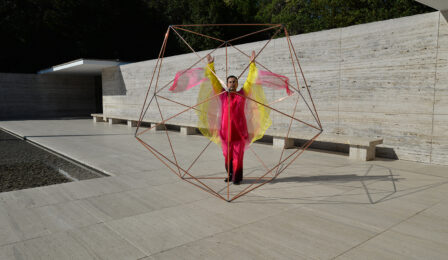 Suprasensible
Santiago Borja
Video art, installation and exhibition
July 2015
Suprasensible is a project on astral bodies and invisible planes that relates the world of visual arts to architecture, esotericism with geometric forms, abstraction and color. All this through the support of videos, photography and sculptural pieces. Between the latter is the textile piece designed by Santiago Borja, which covers the interior of the Mies Van Der Rohe pavilion in Barcelona where he executed the installation. Borja achieves a reading of architecture from an anthropological point of view, speculating and seeking in order to give life to inanimate objects. Hangar did the pre-production, production and postproduction of the project.
Place of presentation of the project: Pavilion Mies van de Rohe Barcelona
Financing: Graham Foundation of Chicago (USA), Han Nefkens Foundation, Banco Sabadell Foundation, Secretaría de Relaciones Exteriores de la Agencia Mexicana de Cooperación Internacional para el Desarrollo (AMEXCID) from Mexico and the Mexican Consulship in Barcelona.