The way things do by Serafín Álvarez, Daniel Jacoby + Yu Araki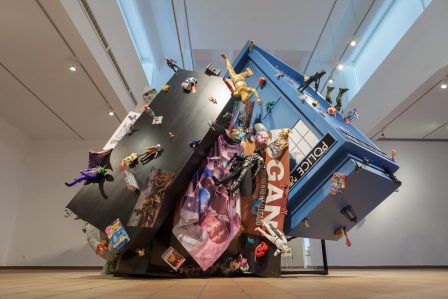 Serafín Álvarez, Daniel Jacoby + Yo Araki
Construction and assembly
In 1987 the swiss artists Perter Fischli and David Weiss presented the film Der Lauf der Dinge, internationally known as The Way Things Do. The film shows the chain reaction of a great multitude of objects and substances that are activated and connected to each other, as if they were predetermined by a continuous cause-effect action. The succession, apparently random and chaotic, is meticulously choreographed.
In the eighties born Daniel Jacoby & Yu Araki, Serafin Alvarez and Cécile B. Evans, artists who, for the 30 years of the film of the Swiss duo, have made new productions from this piece.
The Way Things Do offers a look from which artists explore the idea of object as an autonomous, complex and inexhaustible reality. His masterpieces show the framework behind a traditional Japanese sport that is currently held only on a single circuit around the world. They approach the relationships that fans develop with consumer objects pertained to fictional universes and build a story in which humans, data, machines and artificial intelligences collaborate.
The exhibition ends with the screening of the original film by Fischli and Weiss.
To carry out two of the three productions of this exhibition, the one of Serafín Álvarez and the other of Daniel Jacoby + Yu Araki, the Construction Workshop, the Multipurpose Room and the Hangar Interactive Laboratory have been used.
The first of the pieces consists of a metallic structure, about 4m in diameter, lined with toys and objects from the imaginary of the fictional universes. In order to build it, a metallic profile sphere was made, which was then lined with chicken wire. Once the sphere was finished, it was filled with toys, first as a test in the workshop and later in the exhibition space of the Fundació Miró.
The second of the productions is a metal structure in the shape of a racing car track hanging from the ceiling together with a screen. When this screen stops at a specific point on the track, a 20-minute movie begins. Once it is finished, the screen moves back to the same starting point.
This project has been funded by the Fundació Miró and has been exhibited in the hall of the same center.