Una exposició de mirar by Enric Farrés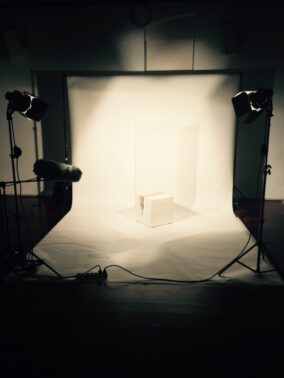 Construction
"Una exposició de mirar" is an individual exhibition by Enric Farrés Duran in which an unpublished manuscript by the writer Josep Pla is presented.
The exhibition proposes a repto on the meaning of what we see. The title pays homage to the titles with which Hans-Peter Feldmann names his proposals. This confirms what might seem evident, that the exhibition spaces are spaces of authority that are governed by a series of conventions that state that what is exposed is art, and that the presentation of the works for the public to observe implies their legitimacy as such.
Enric Farrés Duran already has a vast number of projects on his back, many of which can be consulted in the documentation center, where it is open to view (or perhaps closes). In any case, it is one of the key spaces to enter the universe of the artist. In this space he has conceived a specific intervention that subverts its functionality, while at the same time directing the attention of the visitor to the selection of videographic documentation and the publications that accompany the artist's most outstanding projects.
The exploration of the reverse of what is known to us is one of the axes that will underpin this project in which, Enric Farrés Duran, appropriates expository devices associated with renowned authors (such as the architects Richard Meier and Lina Bo Bardi) and It invites us to look at them in another way, with the ultimate aim of analyzing and questioning the mechanisms that give value to the artistic fact.
In "Una exposició de mirar" nothing is what it seems. On the occasion of the centenary of the Museu d'Art Jaume Morera, the artist has conceived a new work from the documentary archive of Leandre Cristòfol. Together with Joana Llauradó, she will carry out a specific project with the museum's collection, produced by the Sorigué Foundation.
From the Hangar Building Workshop, 4 copies of the piece by designer Lina Bo Bardi have been produced. Four pieces, concrete, wood and glass bases; constructed from a wooden formwork and castings with white foundation and marble sand. Subsequently, a metal structure had to be placed so that the wooden wedge could do its job.
This is a project funded by the Centre d'Art la Panera and that has been presented in its exhibition hall.