Virtual Tour by Mireia C. Saladrigues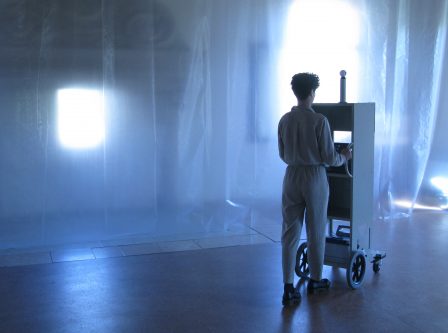 Construction
For this occasion, and taking into account the proposed theme, Mireia C. Saladrigues has developed the Virtual Tour project, a research in open process and on exhibition that-taking as a starting point the generation of a virtual tour of the Research Pavilion, proposes some questions to investigate:
Problematize the digitalization and duplication of exhibition spaces and their works of art.
Reflect on the materiality and relevance of online systems in terms of the experience of artistic reception and the behavior of visitors.
Explore what is the metaphorical (limited) space of the screen in which access is given to an immersive and extensive exploration of the exhibition.
We lose or we gain (matter and relation) through the process of digitalization of the works of an exhibition?
The hybrid spaces that mix the analogical space with the virtual one facilitate the most significant interaction with art or, contrarily, flatten the ways of considering, finding and contemplating art?
Visual Tour makes visible the digitalisation mechanisms of the exhibition spaces – through a replica of the same Google trolley – and of the workforce involved – with the presence of the artist capturing daily, with 360º technology and the same exhibition, their daily life .
In parallel – and through an open process research project – the different phases and methodologies of work are exhibited in the pavilion, applying the principles of accessibility and transparency that characterize "open access".
A green chroma wall in the pavilion – as well as the postcard – insinuates us that there is another reality beyond the exhibition itself. In the same way, on the page «www.virtualpresenttour.com» the materials / documents generated are accumulated – as a file – with the intention of generating three different modes of virtualization of the exhibition: the story, the video in 360 and the video game replica of the exhibition.
The web has a specific navigation system that allows adding or deleting information (textual, visual, digital, sound, etc.). Clicking on more or less causes alterations on the apparent linear structure of the file, in order to emphasize one of the main research questions: Finding ourselves with digitally reproduced art, enriches or impoverishes our repetition?
The truck has been built in the Hangar Construction Workshop. This one has been made with a metal structure and later it has been painted in the oven. Once tested, the cameras, the batteries and the computers that the artist wanted were incorporated into the Interactive Lab.
This is a project financed by the artist and presented at the Second Research Pavillon in Venice.