Welcome by Ciprian Homorodean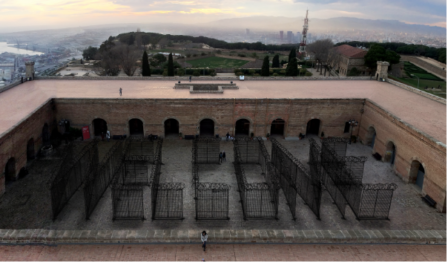 Ciprian Homorodean
Construction
Ciprian Homorodean's Welcome takes into account the militarization of the Montjuic Hill, which became a defense stronghold in the 17th Century. Its fate was most unfortunate, as the fortress would be used to wage battle against the very city it was supposed to defend. Later transformed into a prison, a memorial site, and ultimately a military museum, it also became -during the Franco years- the site of an abominable political crime. Associated to such misfortunes, the Montjuic Castle and its grounds were a rather unwelcoming place until, in 2007, the fortress was returned to the city and became a spot for social and cultural events.
Before being a thought, hospitality is an act. A pure event. Come in, and be welcome, you, whom I do not know. Hospitality, like forgiveness, is granted unconditionally. It designates, more than a figure, a space where this act of invitation can take place. This space, I believe, is the very site of thought.
*Anne Dufourmantelle. « L'hospitalité, une valeur universelle ? », Insistance, vol. 8, no. 2, 2012, pp. 57-62.
Being hospitable is not something we take lightly nowadays. Much water has gone under the bridge since the times of our ancestors, who praised hospitality and considered it a right, an obligation, even a virtue. Ancient traditions set aside, the very essence of this notion, which preoccupied philosophers since early times, has unfolded and become significant in various areas of social life, gaining the attention of sociologists, economists, and policymakers alike. Indeed, hospitality as a concept and a practice raises many problematic questions, further complicated by globalization, population growth, political conflicts and climate change. Welcoming the Other, recent history proves, is no easy task.
In the present context, Jean-Jacques Rousseau's observation appears more than justified: "Nothing makes one more hospitable than seldom needing to be. It is the abundance of guests which destroys hospitality." And who, we might ask, are our current guests? Just look around you, they're everywhere. They are migrants fleeing warfare, corrupt governments or economic duress; they are tourists who've been sold an attraction-park like vacation trip; they are also just strangers who don't think like us. Who are we willing to welcome into our homes, our cities, our lives? Are solidarity and generosity endless resources? We need not voice our answer out loud, and perhaps it really doesn't matter. We must acknowledge however that there is no simple, straightforward reply. In the meantime, while we figure this out, we build more hotels, we praise borders and set up refugee camps, we install fences and dream of building higher walls to keep the unwelcome outside. No wonder a famous philosopher sustained that an act of hospitality can only be poetic. By bringing to mind these questions through his rendition of the most common hospitality sign, Ciprian Homorodean may have given this thought an artistic nuance.
The production, coordination, assembly and disassembly of the entire piece, 8 m long, 40 m wide and 3 m high, has been carried out in the Hangar Production and Construction Workshops.
The entire installation is made with the fence that is used for prisons. Since the Castell de Montjuïc is a cataloged building and, therefore, you can not make an intervention that damages the building, you have had to mount the entire fence from tension cables that go from one side of the patio to the other. weapons. To carry it out, they had to build metal pieces that hugged the four columns of the patio and that allowed the cables to be installed and tightened until the fence was fixed. In the same way, bases were also manufactured where the struts were fixed on which the fence would later be fixed.
This project has been funded by the ICUB and presented at the Castell de Montjuïc in Barcelona.