Fictions of Dis-order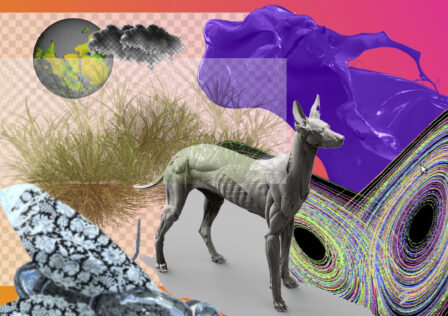 Confronting contemporary ecological and social challenges and conflicts requires the effort to imagine new possibilities for coexistence between humans and non-humans in radical immanence with the environment. However, the imaginary of the real is strongly constrained by the binary thinking on which the globalized univocal worldview is based.
The program Fictions of Dis-order arises from the desire, the need and the urgency -new and non-new- to question the dichotomous paradigms of thought, to decompose their tensions and to inhabit the spaces of friction between the nodes of that construct of polarities that limits the (i)real, the (im)possible, the (in)decible or the (i)rrelevant. Thus, Fictions of Dis-order proposes a vindication and activation of fiction and speculative narratives in their material and semiotic sense, in order to make possible an imagination that insinuates other worlds beyond the established and its hyperbole. In the face of the temptation to surrender to nostalgic narratives, this program aspires to go beyond critique –without dispensing with it– to begin to repair the damage through the search for poetic-political tools that allow for a change in the production of subjectivity and dominant desire in the colonial-capitalist regime. A search that would imply not only the questioning of any paradigm of normativity, but also of the exceptionalism and supremacism that pervades the production of stories and the construction of truth linked to knowledge. It is not a retreat from reality, but quite the opposite; a way of embracing the disorder in which we are inscribed and which conforms us.
This programme aims to explore a diversity of formats and media, which will include workshops, meetings, reading groups, film screenings or drifts that become a call to action for fiction.
Fictions of Dis-order is not a closed program, but an unstable space-time open to dissent and the unexpected. An attempt to ensure that doing is not dominated by thinking in advance. The detours that will be opened by each of the agents that will enclose it and wil make it possible – or not – will locate the program in a continuous re-coupling, interweaving relations and somatic, cultural and technological networks, that will contribute to its procedural dimension, contradicting a presumed autonomous existence. Hence, the programme's activities will happen and be announced throughout 2020.
Fictions of Dis-order is a program of Hangar's Transfer of of knowledges area, intended in dialogue in dialogue with Paula Bruna and Agustín Ortiz Herrera, artists in residence.
Image: Agustín Ortiz Herrera
---
Ecofictions. From cinematographic imagery to speculative narratives. By Paula Bruna
Dates: February, 24, 25, March2, 3 and 9  2020
Time: 6 pm – 9pm
Decades of science fiction cinema have formed an archive of images of possible futures that forge the collective imagination. In view of this, we ask ourselves: how does science fiction cinema deal with environmental conflicts? What eco-social futures are possible according to this imaginary? To what extent are the futures that are being proposed to us conditioned by the current model of social organization and the idea of progress of modernity? Why is it so difficult to think about non-apocalyptic futures? Can we imagine alternative scenarios to those proposed?
+info
Ursula K. Le Guin and Marge Piercy. Collective reading and speculation session by Helen Torres
Date: April 20th, 2020 (open for rescheduling)
Time: 6 pm – 8 pm
A playful and collective reading of two feminist science fiction novels, The Name of the World is Forest, by Ursula K. Le Guin and Woman on the Edge of Time, by Marge Piercy, that address the question of what the world would be like in a non-capitalist setting. How would we love, live and die in a time frame where the relationships between humans and non-humans are not crossed by dualistic anthropocentric thinking?
+info