Wetlab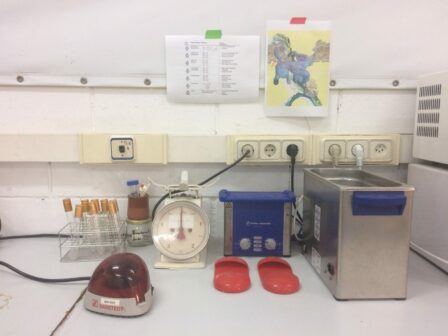 Hangar's wetlab is a space coordinated by the research team and it is a space where workshops, presentations, research residences, collective work processes, discussions… are developed. It projects are situated in the hybrid interactions of arts and sciences, with the intention of facilitating the meeting between artists, scientists and different social agents to address multiple issues present in the contemporary context, such as: what are the conditions of knowledge production in these interactions? What are the challenges for aesthetics? And for ethics? Can we offer solutions or joint critical reviews about the current situation?
In the context of ecological debacle we feel interpellated to promote projects that, starting from a current that feeds on eco-feminisms, are propositive at the time of offering other perspectives and above all, of rethinking other possible (immediate) futures.
The origin of this laboratory is in EXOglands radical dynamics project: fluids, tissues & bloody self-aware enhancement bionicLAB project, by Klau Kinki and Paula Pin, during the Spring Sessions in 2015. Its impact on the Hangar community and the relationship that started with the Biomedical Research Park of Barcelona (PRBB) led to a self-managed biology laboratory that continued in operation through Prototyp_ome, a two-year interdisciplinary collaboratory funded by the Carasso Foundation. From this program, Hangar wetlab continues its activity as one of the stable laboratories of the center.
The documentation of the activities developed in the wetlab is published in Grid_Spinoza.
Ce Quimera + Gaia Leandra are the collectives in residence that currently inhabit the Wetlab.
For any doubt, information or proposal, you can contact:
+34 93 308 40 41 ext. 26
ludovica(at)hangar.org