Micellian Connections, a meeting of PUAJ! Open laboratory of living cultures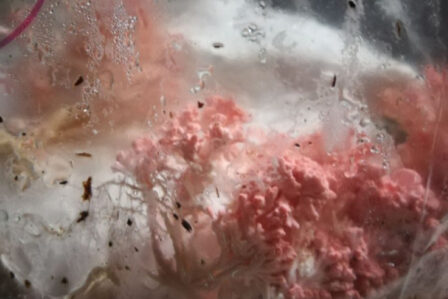 My mycelian network is almost immortal, only the sudden toxification of a planet or the explosion of its mother star can annihilate me… All my mycelian networks in the galaxy are in hyperluminous communication through space and time.
Terence McKenna, The Mushroom speaks.
On December 19th from 5pm to 9pm, the second session of PUAJ! – Laboratory of living cultures, Micellian Connections, will be held in Hangar's Wetlab.
In this working session PUAJ! connects with the Mycological Sovereignty Group of Calafou to share their knowledge about miceliation and reproduction of Micelium. Based on its research on the use of myceliums and molds as elements of food sovereignty and bio-remediation for the restoration of our environment, the session proposes a reflection on the mycelian possibilities of creating interspecific networks of care and mutuality, and triggers transformation processes in order to work with the materiality of the damage, be it ecological, social, cultural, historical, or fictional…
If you are interested in participating in some form, you can contact PUAJ! through the mailing list: https://llistes.hangar.org/mailman/listinfo/fermentacio or write to sonia(at)du-da.net.
The third session will be held on the 16th of January. Details will soon be  announced through the Hangar website and the group mailing list.
Photo credits: Mycological Sovereignty Group