Collection of Stabbing clítoris #1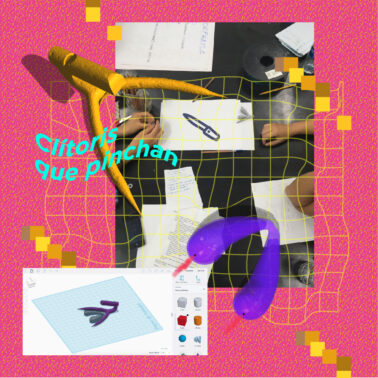 This Thursday, November 8th, group #1 of Stabbing clitoris project (workshop of the resident group TMTMTM) meets the objects resulting from their work process.
Stabbing clitoris, in the most basic, has been a course for non dominant male identities of 3D modeling and printing. Beyond that, it is a group of discussion and design of self-defense (trans)feminist systems that traverse such complex issues as violence, different ways of understanding defense and attack,  the action and collective organization and the self-management, the transformation of the language and the relations … In the end, Stabbing clitoris is a space of protection, support, defense and care.
The group #1 that has carried out this project and designed the object we collect this Thursday, decided not to publicly disseminate the design of the object despite having released its design on the Internet: the design will be viralized through of contexts of confidence and security to try to protect their possible uses and identifications. If you want to enter the network of the Stabbing clitoris, you just have to look for the conspirators.