Wearable Sounds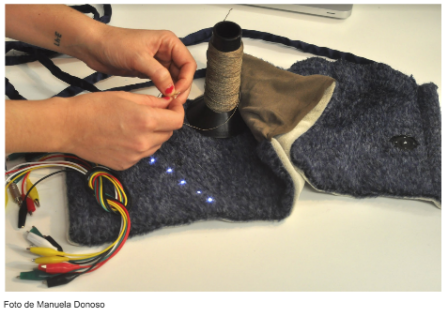 SOLD OUT
This two-day workshop will be the culmination of a research residency that Claire Williams and Merche Blasco will do in Hangar, combining their shared interest in electromagnetic field activity (EMF), textiles, instrument design, and performance. Participants of this workshop will be invited to participate in a multichannel concert that will take place in Hangar on July 26th, where we will explore and perform live the EMF of the performance space.
Day 1: "Wearable Beats"
Friday July 20th
5pm – 9pm
This workshop will serve as an introduction to soft circuits, to learn how to translate your circuits into wearable projects and create your own soft controllers for visuals or audio with them. Soft circuits, or electronic textiles, are electrical circuits created using flexible conductive materials such as conductive threads and fabrics altogether with discrete electronic components, meaning resistors, capacitors, transistors,etc. We want to provide a basic knowledge in those materials, how to work with them and embed them into a wearable piece and some possible applications to let the users explore new ways of electronics and design. In tis four hour workshop, we will learn about the specifics of the new materials used in the class and how to work with them to create basic components for our circuits, such as switches/buttons, pressure sensors or potentiometers. We will work then altogether to build a simple synthesizer where we will mix those soft components with discrete ones and the intricacies of how to connect soft and hard components.
Participants must bring: Fabric samples, pieces of fabric, clothes you would like to work with.
Day 2: "Wearable Antennas"
Saturday July 21st
10am – 4pm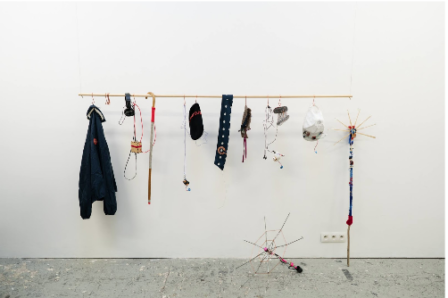 We will create our wearable antennas by hacking everyday objects with textile techniques. These antennas will be connected to a small circuit that we will build in order to amplify and hear a portion of the electromagnetic activity of our environnement. The participants will get to build their own textile antenna & antenna amplifier that they can take home. They can recycle objects such as umbrellas, hats, or objects with cylinder shapes (tin can, wood branch or stick…) to transform them into wearable antennas that will detect and amplify electricity and electronic appliances such as neons, motors, am radio etc… We will finish the workshop by doing a sound walk in the street to hear the electromagnetic environment of the city.
Participants must bring:
– second hand objects such as hats, sticks, cylinder shaped objects, wearable accessory, umbrella etc..
– Headphone
http://www.xxx-clairewilliams-xxx.com/projets/an-electromagnetic-walk/
photos of antenna workshop: http://www.xxx-clairewilliams-xxx.com/projets/workshops-textile-electro/
Documentation: http://www.xxx-clairewilliams-xxx.com/documentations/antennas/
——————-
10/12 participants max
*No prior knowledge of electronics or sewing is required.
Free registration. Cost of materials € 40. To order the materials 40 € must be paid one week before the workshop. At the end of the workshop each participant will be able to take home their own soft synthesizer.
Pre-registration by completing the form.
Materials:
Day 1
1 EMF kit (conductive yarn + amplifier)
Day2:
+ Stretching conductive material
+ Conductive thread
+ Velostat
+ Mini breadboard
+ Electronic components: resistors, capacitors, battery adaptor, buzzer
Total: 40€
Claire Williams // http://www.xxx-clairewilliams-xxx.com/
Working at the borders of science, technology, arts and textiles, Claire Williams sees her self as an artist and researcher that tries to work between these fields, finding a common language, creating and amplifying  specific interactions between different mediums. Her obsessions lay mostly around data, sound and ancient textiles, trying to materialise digital matter, imperceptible or inaudible informations found in our super saturated techno environment. She likes to work with unstable media, researching ways to create specific tools, usages or techniques to give us a sensitive experience of our daily environment. In her work she mainly uses textile techniques, hacked machines,  DIY electronics, open source software and hardware.
Claire Williams lives in Brussels. In parallel to her art practise she organises, collaborates in collective projects. She has exhibited internationally and regularly gives workshops and exhibitions in art festivals, associations, cultural events, schools and museums on open source textiles, floss software & hardware, hacked knitting machines, electronic textiles and stories on analogue textile techniques.
Merche Blasco // http://half-half.es/
Merche Blasco is an interdisciplinary artist and composer based in New York. Her practice revolves around building new instruments for electronic music performance, orchestrating participatory sound performances in public spaces, and electroacoustic improvisation. Blasco has been awarded art residencies at The Queens Museum (NYC) and the Contemporary Museum of Santiago de Chile, among others. She has presented her performances and installations at NIME conferences, Sonar Festival (Barcelona), Make Music NY, SONIC Festival (NYC), Mapping Festival (Geneva), Queens Museum of Art (NYC), Harvestworks (NYC) and the Museum of Contemporary Art in Santiago, Chile, among others. Her work has been featured in The New York Times, The Wall Street Journal, and Wire magazine. Blasco is currently a Ph.D. Candidate in music composition at New York University and a NYFA 2017 fellow in digital/electronic art
http://half-half.es/interactive-design/Ramona-oruga/
https://vimeo.com/41735339
PERFORMANCE :
EEMF04
EEMF04 is the fourth installment in a series of multichannel pieces in which Merche Blasco explore and perform the electromagnetic field activity (EMF) of the buildings where the pieces are presented. As Blasco listens to the structures themselves, conducting field recordings of the electromagnetic activity unique to every space, she involves her body in the data collection and the technology she uses to translate the EM activity into audible material. These recordings are then spatialized in a multichannel system that reimagines the topology of the EM spectrum, including the highly regulated hierarchy of frequency allocations (radio stations among them) within it. Against this electronic backdrop, participants of the workshop Wearable Antennas, taught by Claire Williams, will render audible the energetic forces of the space at the moment of the performance.