New activities of Hamaca Educa and Hamaca Proyecta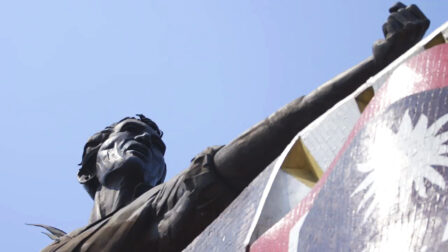 Ta Acorda Ba Tu El Filipinas? (82′), de Sally Gutiérrez
BÒLIT
December 19th, 18'30-20'30h
Plaça del Pou Rodó, 7-9, 17004 Girona
Free entry / Limited sitting
ARTS SANTA MÒNICA
December 22th, 19-21h
Sala de actos
La Rambla, 7, 08002 Barcelona
Free entry / Limited sitting
With the presence of the director, accompanied by Linda Valdés and María Zafra Cortés
The long non-fiction Ta Acorda Ba Tu El Filipinas? (Do you remember the Philippines?) Reflects on the traces and ghosts of past and present globalization and inquires into (post) colonial relations from a critical point of view. Jumping from one language and stage to another throughout the complex Philippine geography, the film intertwines the lives, memories, struggles and spaces of diverse communities of speakers.
Sally Gutiérrez works with expanded formats in a hybrid field between contemporary art, visual essay and documentary. From a critical and feminist position, his artistic projects go through the ways of inhabiting, resisting and (over) living in geographies where space and objects are also social actors in the networks and crises of globalization.
He has developed projects based on collaboration with local communities and organizations in contexts such as South Africa, where he filmed the documentary Tapologo (co-directed with his sister Gabriela), the Philippines, and Villalba de Guadarrama (where the web-doc Villalba Cuenta was filmed) . He teaches at the European University of Madrid and is part of the artistic collective Magnetic Declination. His work has been exhibited in museums and galleries such as Kunstwerke, Akademie de Künste (Berlin), Parker's Box, Whitebox Gallery, PS1 (New York), CCCP Manila, Matadero and Reina Sofia National Museum (Madrid).
Linda Valdés is part of the Equipo re research platform, from where she works on the intersection between body policies and archival policies. They are currently developing the Anarchivo sida project, collaborating with different institutions such as Tabakalera, San Sebastián; Conde Duque, Madrid; MACBA, Barcelona, ​​among others. Likewise, since 2008 she works at Fundació Antoni Tàpies as coordinator of public and web programs.
Maria Zafra Cortés graduated in Sociology, Master of Creative Documentary (UAB), specialized in editing. As a filmmaker and editor, she has focused her work on the documentary field, collaborating regularly with entities such as Drac Màgic, La Bonne and various audiovisual producers. She has also been a programmer and coordinator of the festival "L'Alternativa. Independent Film Festival of Barcelona "and the" Mostra de Films de Dones de Barcelona ". Currently part of the team of the Cooperativa de Tècniques.