Paratext n#27 with Mercedes Mangrané, Birde Vanheerswynghels, Liv Schulman, Andrea Ganuza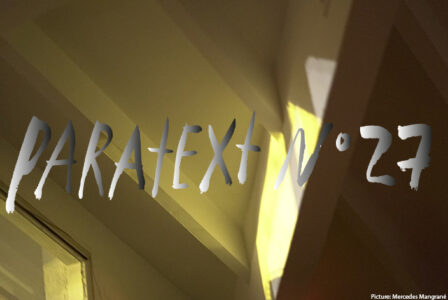 Paratext hides a monthly program of presentations by artists in residency in Hangar, always on Wednesday from 7 pm to 9.30 pm. Several artists present in various formats specific projects or parts of their works. The meetings are always opened based to the public in order to enable interaction with the artists themselves.
Next session will take place on Wednesday, June 20th at 7 pm in Hangar at Ricson space. The following artists will present their work:
The artistic practice of Mercedes Mangrané places the starting point from her more immediate daily life. In her projects she investigates through video and painting the control mechanisms of contemporary society, the common spaces constituted by the new leisure landscapes, the naturalized artifice of consumer life.
Starting from a certain discomfort caused by the seemingly docile, she investigates the imaginery associated with comfort, the privatization of public life and the violence contained in the narratives of self-improvement, sometimes playing from a certain melancholic tone that gives off the pictorial treatment on a theme, other times from the documentary view, hybridizing fiction and the subjectivity of the autobiographical notches.
After obtaining a degree in Fine Arts from the University of Barcelona, she completed an Erasmus at Middlesex University in London. She holds the Master of Creative Documentary Film from the Universitat Autònoma de Barcelona (2011). She also obtained the Certificate of Pedagogical Aptitude after attending the 2015 Master's Degree in Training of Teachers of Compulsory Secondary in drawing specialty by the Universitat de Barcelona.
Vanheerswynghels is known for her impressive large scale charcoal drawings of constructed and lush landscapes that stem from a mental archive of images. As a child she saw a cat getting driven over by a car and got fascinated by the shape the animal transformed into. In her working process she recreates this transit from figuration to abstraction and back again by starting from photographs, mainly self made polaroids. As the foundation for her drawings, these polaroids act as fragments of a composition that becomes a new image.
Birde Vanheerswynghels lives and works in Brussels. She completed a two year post academic residency program at HISK, Higher Institute for Fine arts in Ghent, Belgiumt. In 2015 she was the winner of the Baker Tilly Roelfs Prize, Düsseldorf (DE) for her work in the group show 'Terra Incognita', KIT, Düsseldorf (DE). She made several residencies in Cité Internationale des Arts, Paris (GR), Kunstprojektraum Tapir, Berlin (DE), Boiling Point PRESS Berlin (DE) and Takt kunstprojektraum, Berlin (DE). She had group exhibitions in amongst others Drawing Center Diepenheim, Diepenhein (NL), Croxhapox, Ghent (BE), Galerie Martin Kudlek, Köln (DE), Komplot, Brussels (BE).
Whether fictions, films, theatrical performances or diaries, Liv Schulman's work is centered around the practice of writing. Language, often enacted by interchangeable bodies, seems to spin out of control to the point of blurring and blending stories, creating absurd connections, and giving light to a paranoid yet acerbic and parodic vision of the social world, based on the alienation of bodies, the devaluation of identities, and the complexities of desire for meaning.
Liv Schulman, who was born in Paris and raised in Buenos Aires, has shown her work at several festivals devoted to video/performance in Brazil and Argentina, as well as at the Museum of Modern Art in Buenos Aires. Her work has been included in group exhibitions internationally, including recently at the Bienal Arte Joven, Buenos Aires (2017); Galerie, Noisy le Sec; Les Ateliers – Biennale de Rennes (2016), the Contemporary Art Museum of Rosario, Argentina; and Chisenhale, London (both 2012) among others. She recently had a solo exhibition at Piedras Gallery in Buenos Aires, Argentina, as well as a solo exhibition at Zoo Gallery, Nantes, France.
She uses the most confessional part of the autobiographical comic book to reflect on individual and collective dilemmas, confronting and raising questions about certain established socio-political patterns. She is interested in the world of DIY publishing and fanzine making for its immensity and insignificance, its freedom and its discomfort, claiming that gaps are the place where things really happen.
For this reason, she has published several individual publications such as "Todo Se Derrumba"(2017, self published); "SCMBR o Barro Desafinado"(2016, NauEstruch) o "Puta Mierda" (2015, Morboso y Mohoso) and collective projects like PUMPK the Festival de Autoedición de Pamplona / Iruña or Nenazas, a feminist, heretic and mutant collective.
Her work halfway between contemporary art and comics has led her to exhibit in institutions such as the Fundación Suñol and Can Felipa in Barcelona or the Rafael Pérez Hernando Gallery in Madrid, and to realize residences in spaces such as NauEstruch (Sabadell) or Taller 7 (Medellín), the last one thanks to a grant from Hangar.
At the same time, she develops her pedagogical work by giving workshops in official spaces such as the Museu d'Art Contemporani de Barcelona.
(MACBA) or Elisava School of Design and alternatives such as the GRAF Comic Strip Festival or La Caníbal bookstore, as well as in various schools and educational centres.