Agustín Ortiz Herrera
Long term residency
May 2019 - 2021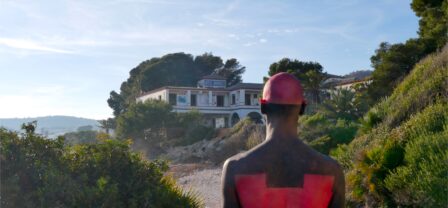 Agustín Ortiz Herrera, 1970.
The artistic practice of Agustín Ortiz Herrera investigates the place of confluence between the moving image and the performance. His work explores the semantic possibilities of non-linear video installations and uses that means to deal critically with issues such as intersecretionality, implicit violence in power relations, contradictions of economic organization systems and the paradoxes posed by representation of memory. Its strategies include the challenge of the hierarchies and the automatic positions established between viewers and audiovisuals, as well as the subversion of expectations through the agitation of the interfaces and the provocation of an active role in the viewer.
Graduated in Fine Arts from the University of Barcelona, ​​he studied cinema at New School University in New York. After a period as a fiction writer he returned to artistic production after going through the Master's in Fine Arts program at Stockholm's Konstfack school. He has exhibited his work in various galleries of Uppsala, Tromsø, Barcelona, ​​Berlin and Stockholm. He also participated in the 2015 Open Art Biennial of Örebro and was part of several collective exhibitions in places such as Centrum för Fotografi, Supermarket Art Fair, Platform Galeri Stockholm, Uppsala Konstmuseet and Konsthall C. Recently he was selected to participate in the Nordic Studio Residency organized by Rejmyre ArtLab. He received the Nils Johan Sjöstedts Award in 2016. In Barcelona he collaborated with The Green Parrot at the curatory of the Opavivará events and an Ocean Feeling organized by the Antoni Tàpies Foundation.
Past resdiencies:
Short stay: november 2017 – january 2018