Anna Irina Russell
Long-term residency
April 2019 - 2022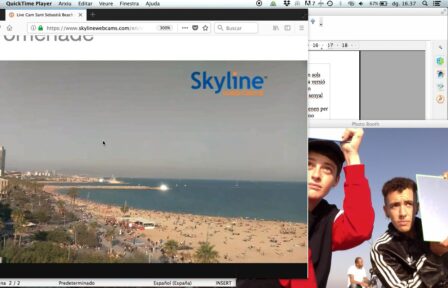 Anna Irina Russell. Barcelona, 1993

Her artistic practice is based on playful as a tool for research on codes and forms of communication and interaction. She works creating absurd situations to decipher established social constructions. She is interested in dynamiting the relationships between body, space and object from the bewildering and unusual, using interfaces as a space for interaction. She is attracted by error, noise and distortion as they accentuate the way we understand "reality".
In both the actions and the interactive installations with which she works, there is a real-time and alive component that makes her understand the public not as an object but as an essential subject that becomes a part of the action. The uncertainty and improvisation of the moment allow her to break, mutate and adapt her work to the reactions produced. Although she generally uses installation, action and video, her practice is solved in several formats, depending on the context of each project.
Graduated in Fine Arts from the University of Barcelona (2015), in which she completed the Master in Sound Art (2018). She is part of the Radio Web Macba working group, responsible for producing a radio sound archive from her project "The coconut effect". She received the grant BCN> TNS> ALG from Jiser in collaboration with Hangar. She has been one of the short-term artist in residence in Hangar during 2018 and full-time in Fabra i Coats (2017). She has participated in several residences such as The Palace Arts Festival (Poland), REITIR (Iceland) and Sketch'm Up (Marseille), always in collaborative and multidisciplinary projects.
She has shown his work individually at the Museu Can Framis-Fundació Vila Casas during the Nit dels Museus in Barcelona (2018). She has also participated in several collective exhibitions in Convent de San Agustí , Arts Santa Mònica, CCA Fort Pienc, Nau Estruch, La Escocesa, Embarrat-17, Fabra i Coats and self-managed spaces such as La Cera 13, Sala Usurpada, Alþ ðuh sið.
*Foto: Javier Monsalve
Hangar Studio Visit 2020
Past residencies

Creation Residence BCN>ALG>TNS
December 2018 – January 2019
Short stay residency
February – May 2018