María García Ruiz
Long-term residency
May 2022 - April 2024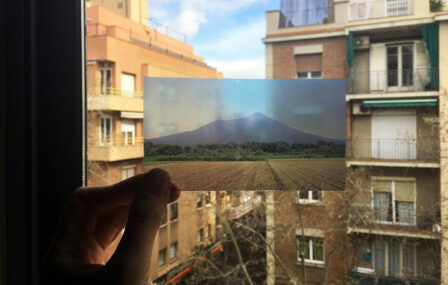 María García Ruiz. Valdepeñas, 1981
María García Ruiz is an artist and researcher. She holds a Bachelor's Degree in Architecture from the Escuela Técnica Superior de Arquitectura de Granada, a Masters in Art and Design Research from the Autonomous University of Barcelona and EINA. She is currently completing a PhD in artistic research within GEARAD (Grup d'Estètica Aplicada en Recerca Artística i en Disseny) belonging to the Department of Philosophy at the Autonomous University of Barcelona.
Her practice questions the processes through which both spatial arrangements and their associated imaginaries are generated. From there she develops two main lines of research: one on landscape -the relationship between the gaze, the configuration of space, the flows of the living and technology- and the other on the architectures of bodies in movement.
The propositions that he develops are aimed at straining the understanding of space from positions that take it to the limit. In this sense, he explores movement as that which resists being fixed under certain forms; and the image, understood beyond representation. The main approach of his work to these issues (space, movement, image) arises from the inquiry into the controversies and paradoxes that are generated by putting them in relation.
The projects she undertakes are guided by artistic research as a fundamental methodology to then formalize them in different ways, articulating hybrid narratives between the image, the word and the action.
Selected artist in the Biennal d'Art Diputació de Tarragona (2021) and in Fotonoviembre, International Photography Festival of Tenerife (2021). Artistic Research Grant Fundación Banco Sabadell – Hangar with the project "Campos. Desplazamientos de los cuerpos en los límites de la forma" (2020), which was a finalist in the ACCA Awards 2020. Multiverse Grant for creation in video art with the project "Tierras raras" (2017). Miquel Casablancas Award with the project "Oratorio" (2016). Research and Creation Grant from the Generalitat de Catalunya (2015 and 2016).
Her works have been presented in venues such as the Secession in Vienna, the Kunstverein in Stuttgart, the Museum of Reus, Lo Pati Centre d'Art in Amposta, the MUSAC in León, Fabra i Coats in Barcelona and the TEA in Tenerife, among others.