Marta Velasco Velasco
Long-term residency
maig 2022 - abril 2024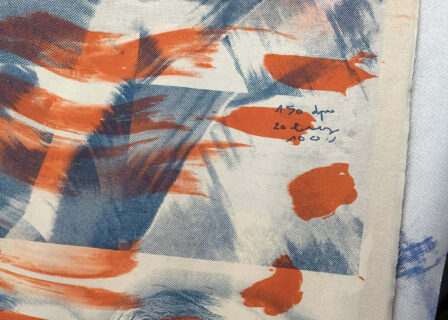 Marta Velasco Velasco. Barcelona, 1990
Her work contemplates what takes place on an affective level in encounters between materials and identities, between bodies and places. She explores other ways of narrating the relationship with the material and the unique, often invisible, knowledge that arise from this relationship. She has worked on travel experiences within the framework of the Western imagination, which involves processes of acculturation and Euro-Americanization of the world, as well as the exoticization of material experiences. In her latest works she investigates the transformation and transmission of knowledge and languages of craftsmanship in the context of the Mallorcan fabric tradition.
Her practice is developed in the fields of audiovisual, installation, fabric and painting. In her work she uses fabric, drawing, photography, video and installation to create records of real contexts. Through visual and material associations, she mobilizes the language of the delocalized subject to represent postcolonial and globalized space-times, full of divergent narrative layers. To produce her pieces she uses her own photographs, images from institutional archives or the internet, along with materials she collects from the places she researches and fabrics she makes using traditional techniques.
Marta holds a BA Honours degree in Textiles Print (BA Honours) from Central Saint Martins London and an MA in Textiles (MA) from the Royal College of Art London. She has presented her work in the form of installation, projection and exhibition at: Deep Trash Escoria by CUNTemporary Festival (London), Arebyte Gallery (London); Watermans Arts Centre (London), The Invisible Dog Art Center (NYC), Hockney Gallery (London), Gallery House (NYC), Sonar+D (Barcelona), Lethaby Gallery (London), Material Lab (London), among others. Apart from her individual production she collaborates since 2018 with the poet, queer theorist and performer Sara Torres, in audiovisual and performative projects. Her pieces have been screened and presented at: Cosmopoética Festival, Córdoba; Instituto Cervantes de Londres; Queen Mary University, London; Centro Hispanoamericano de la Cultura, Habana; Miscelanea, Bcn; and Museo Thyssen de Málaga.