Eulàlia Garcia Valls
Long term residency
August 2019 - 2021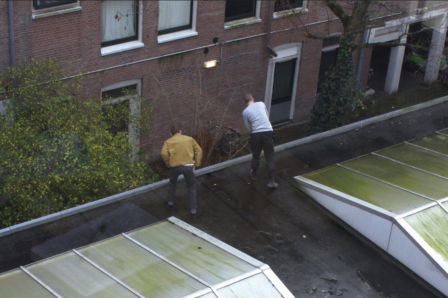 Eulalia Garcia Valls. Barcelona, 1992.
The specific interventions (in specific places and moments) that make up Eulalia Garcia Valls' practice seek to stress the relationship that exists between the context in which they are situated and the behaviour that we adopt within it. They function as an add-on to a specific everyday experience that wants to alter, question, displace. They are intentionally not very perceptible, and he uses them basically to provoke a state of negotiation between the agents and the elements that are involved.
She focuses her interest on understanding and responding to certain intrinsic structures of the art system. It is for this reason that she works directly on the context, the space where we live, its elements and its skin, understanding that acting on the space and the structures that make it up allows us to alter (or affect) the behaviour we have within it, and therefore, question its conformation.
To articulate this gesture, the tools used are tension, provocation, perplexity and contradiction. And on a material level, the interventions she carries out are transformations on surfaces or behaviours, transportation and displacements, losses and gaps, gestures that are activated when they are experienced.
Eulalia Garcia Valls has a degree in Arts and Design from the Massana School (Barcelona) and has been resident for a period of two years at De Ateliers (Amsterdam 2017 to 2019). Previously, she has also been resident at Fabra i Coats (2015-2016) and at L'Estruch (2014, with the Placa Turca collective). She has been part of proposals such as the first edition of the workshop "Aperture 01: The ass between two chairs", directed by the artist Arash Nassiri and with the support of the Han Nefkens Foundation and the Massana School, and the Exoteric Department, a self-training platform coordinated by the artist Jordi Ferreiro (MACBA). In recent years, she has participated in various group exhibitions such as "Rooms of Now #2" (Middelburg, Vleeshal), "Once a Closely Guarded Secret" (De Ateliers, Amsterdam), "Aperture 01: The ass between two chairs" (Galería Àngels Barcelona, Barcelona), "Adiós al rhombus" (Casa Encendida, Madrid), "En procés" (Fabra i Coats – Fábrica de creación, Barcelona), "Transportes Placa Turca" (Festo, Torelló), "Sis artistes es tanquen al Centre Cívic Sant Andreu" (CC Sant Andreu, Barcelona), "Matters in the Dark" (TENT, Rotterdam), among others.