Helena Vinent
Long term residency
may 2018 - 2020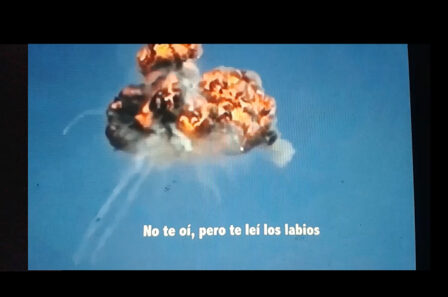 Helena Vinent. Barcelona, 1988
Helena Vinent investigates the construction systems and representation of text and image, focusing on what happens when they are removed from their context and original format. She is interested in the arbitrariness provoked by said decontextualization, and she takes advantage of it to propose other fictions by questioning various pre-established logics that are articulated around hegemonic discourses and practices.
She is currently working on various projects that seek to demonstrate the fragmentation that is implied when translating from one format to another, and focuses above all on the translation of sound into the image and the text. The conversion of all sound into something visual highlights its wide range of representation. (Shouts while listening to background music) Who shouts? How is that scream? And the background music? She proposes different readability possibilities, as a symbolic and political strategy to advance in other languages. To do so, she poses situations in which communication does not occur in a common way, like a space full of noise. And it is not seeking to reach the perfection of communication, but to come to doubt their own effectiveness.
Her practice is fragmentary and is not limited to a specific discipline. She works with reappropriated material from different media and waves it together with another material that he produces to generate pieces, installations or small events.
She has been developing her artistic practices between institutional spaces and self-managed independent spaces. She has been a resident at Fabra i Coats under the SAC-FiC 2017 visual artist grant and has exhibited at the Galería EtHall, at the Sala d'Art Jove, at Sant Andreu Contemporani, at the Fabra i Coats, at the Festival Embarrat, in the Galería Nogueras Blanchard and in the Arts Santa Mònica, among others. Beyond her individual practice she has participated in the organization of different exhibitions, events and collective projects, such as Jornadas Mutantes, a fanzines distribution project in a traditional press kiosk, or the event 'Una cantidad considerable de trabajo'. She has also participated in the management of a space in Barcelona, ​​La Sala Usurpada, which has hosted several events in which artists from the contemporary context of the city have collaborated, such as 'Vecinas Presenta', 'Hacer sitio', 'Trece para una alteración', o 'Punk. Sus rastros en el punk contemporáneo'.