Open call for the coordination of residents and contextual networks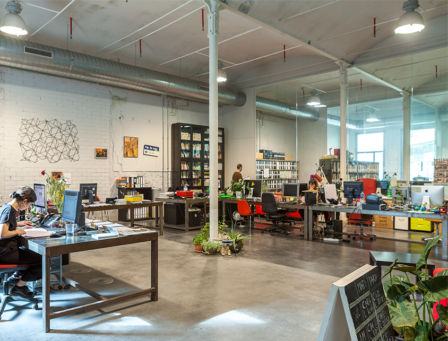 Open call for a person to join the Hangar team in order to coordinate the residences and to dynamise relations between the different residents of the centre, as well as Hangar's relations with its contextual networks.
ABOUT HANGAR
Hangar is a research and production centre with an artistic leadership. Its mission is to generate, update and maintain the necessary conditions to facilitate and promote artistic production and research, understood as practices and forms of critical speculation capable of responding to contemporary debates and urgencies.
Hangar is a centre that is fully or partially involved in the process of contemporary artistic production, understanding that this requires a space for experimentation, research and knowledge transfer; tools for production and a sustainable relationship with communities and complicit agents that can accompany the development and presentation of a project.
Hangar understands art as a knowledge-producing practice and, therefore, defends artistic research as a research modality in its own right, endowed with a specific modality of discovery and production of knowledge.
Hangar has an open concept of contemporary art as a knot between different forms of sensibility and knowledge, capable of a singular speculative imagination. For this reason, Hangar puts into practice, with all its consequences, the interaction of contemporary art with technological and scientific research, with other fields of creation and with cultural studies. Hangar postulates and claims the pioneering role of art in the critical examination of issues such as ecological transition, the tacit governance of infrastructures, technological designs, gender, class or racial privileges, and neoliberal dysfunctions.
Hangar aims to make artistic creation and research, and its institutions, agents capable of modifying or inspiring modifications in the current coordinates of life.
ABOUT THE POSITION
Framework
Hangar is an environment, meaning that an environment includes all the factors that affect an organism or community and determine its conditions of life and survival. Hangar works permaculturally in such a way that the variety of elements and agents that coexist nourish each other, providing an environment for the development of artistic practice and thought.
Hangar is a backstage environment. More than the presentation of results, we are concerned with creating the conditions for artistic development, including the dynamisation of the community that resides in or gravitates around Hangar.
The Hangar environment consists of:
– Resident artists (long term, medium term, international exchanges and artists or researchers involved in research programmes); resident projects (run by collectives); temporary or occasional orbiting collectives.
– A whole range of shared spaces, programmes and tools: production and project development laboratories; research and contextual networks (neighbourhood and city); various programmes to strengthen artistic practices; grants; research contexts; and a public programme with different methodologies and temporalities that also invites different people to participate in Hangar, whether on a one-off basis or for longer periods.
– A team of 13 people organised into four areas with complementary functions.
Tasks
This position is a point from which to observe the group of agents that converge and coexist in Hangar, taking care of the executive coordination of their passage through Hangar and dynamising their mutual knowledge.
 The position also involves coordinating Hangar's relationship with contextual networks such as Taula Eix Pere IV, XarxaProd and the Xarxa de Fàbriques de Creació de Barcelona.
In particular
– Coordinating and logistically supervising the stay at Hangar of resident artists, resident projects, orbital collectives and coworkers, ensuring mutual knowledge between them and their integration into the group.
– Managing and drafting agreements and contracts with artists, projects, orbital collectives and collaborators. This excludes the contracts and support of international artists responsible for international networks and residencies.
– Coordinating professional visits of artists and residency projects.
– Designing and supervising events or programmes that mobilise the Hangar community as a whole, such as Open Thursdays, the Paratext programme or Hangar Obert.
– Budgetary control of these programmes within the framework of the budget agreed with the management, and providing the management with the necessary information on planned expenditure.
– Requesting and monitoring the invoicing of the programmes, in liaison with the Administration Manager.
– Preparing texts and communication materials relating to the programmes, to be sent to the Communication Manager for dissemination.
– Contributing to the preparation of dossiers and reports in order to apply for or justify subsidies related to the programmes.
– Welcoming and accompanying visiting experts as part of the programmes.
– Coordinating the booking and use of workshops and spaces when they are not rented externally. Hangar space is a shared resource that must be managed to ensure that its use is well distributed.
– In complicity with the management, monitoring the relationship and interlocution with contextual networks such as the Taula Can Ricart (which brings together all the entities present in the space); the District for issues related to the neighbourhood; the Xarxa de Fàbriques de Creació de Barcelona (in the city) and XarxaProd (in Catalonia).
– Participation in tasks that are shared by the entire Hangar team, such as reception in the offices or maintenance tasks that require collaboration (emptying the storeroom, general cleaning, etc.).
Requirements and assessment criteria
– Demonstrable experience of the functions listed as requirements for the post.
– Experience of working with artists, collectives or coordinating different actors for a common project.
– Although not an exclusive criterion, previous experience in organisations or institutions will be valued.
– Ability to work in a team and in a dynamic and changing context. In addition to the specific functions of the post, working at Hangar means contributing to the performance of certain shared cross-cutting tasks that are not specifically assigned, such as answering phone calls, courier reception, assisting colleagues during the day of events, or occasionally cleaning the warehouses and shared outdoor spaces.
– Knowledge of Hangar and interest in the Centre's work and research, as well as the uniqueness of its institutional form and functioning.
– Knowledge of the context in which Hangar operates, and the challenges and opportunities it presents, will be an asset.
– Fluency in Catalan, Spanish and English.
Conditions
– Part-time, 25 hours per week *.
– Gross annual salary: €20.318.
– Contract: open-ended after a probationary period of 2 months.
– Place of work: Hangar, C/Emília Coranty, 16 08018 Barcelona
*Many of the positions that make up the Hangar team are part-time. This decision responds to the intention of facilitating the work at Hangar with the development of other professional activities, such as artistic, curatorial or teaching practice, for instance.
Application details 
– Letter of motivation, including teamwork experience and skills required for the position that are not covered in the CV (maximum length: 3 pages).
– Contact details of two people from whom references can be requested (email and telephone).
– A brief analysis of the type of coexistence generated in Hangar, demonstrating knowledge of its particularities (maximum length: 3 pages).
– Curriculum vitae (maximum 3 pages).
How to send the application file
Interested candidates are requested to send the documents in a single PDF file by email with the subject line "Convocatoria coordinación residencias" to: info(at)hangar.org
Schedule
– Deadline for applications: 23 July 2023 inclusive (GMT +1).
– Interviews with the Director and one or two members of the Board: between 26 and 28 July 2023.
– Starting on: September 4th, 2023
For further information
info@hangar.org (subject line: Consulta Convocatoria Convocatoria coordinación residentes)
T. 93 308 40 41