"Dibujante en alta mar" workshop by Pauline Fondevila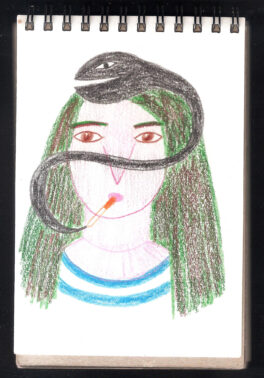 To the memory of the artist Annie Pootoogook (1969-2016)
Draftsman at sea is an intensive drawing workshop in the form of a tribute to the Inuit cartoonist, tragically deceased last year, Annie Pootoogok. It is a cross between these two gestures: to honor and draw, to remember and to project, to miss and to build.
"Sometimes I'm happy and sometimes I'm not," says Annie Pootoogook, "everything I've been drawing I've experienced it." She was born at the north of the north, at Cape Dorset, and was all her short life a solitary sketcher, a sailor lost at the edge of the shipwreck. Also Annie Pootoogook belonged to a family of artists, where you can find very diverse people, pirates, marginals, crazy, depressives, melancholics, alcoholics, drug addicts, shies, anarchists, rebellious, sensitives, fragiles beings. Some never leave their room, others travel all over the world, may know success, but that may not prevent them from ending badly. What if, all are united by a peculiar taste for common places and solitude, and by a natural relationship with the autobiographical.
The workshop will take as a starting point the work of the artist Annie Pootoogook and after an emotional-theoretical journey through her work, which will go through other artists, other cousins, other sisters, will try to produce, each, a mini series, as an echo, not a copy, to the voice of the artist.
At the end of the workshop we will inaugurate the collective series produced during the 2 days, and we'll invite anyone who wants to see her toasting with us!
The workshop is organized in two afternoons of 4 hours where we will move from observation to action, and where tools and triggers will be given to draw from somewhere other than the usual place.
Calendar:
Saturday,  October 7th from 4pm to 9pm – Sunday 8th October from 4pm to ….
Sunday October 8th 8pm: Inauguration and toast!
Registration fee: € 25 basic materials included, but we recommend you bring your own color pencils, black pencil, ruler, fine black pens etc.
Workshop is open to everyone, no prior knowledge or technique is required.
+ Info:
Http://paulinefondevila-blog.tumblr.com
Con la colaboración de

To register, please fill out the following form: