VJ and Video Mapping Workshop with Processing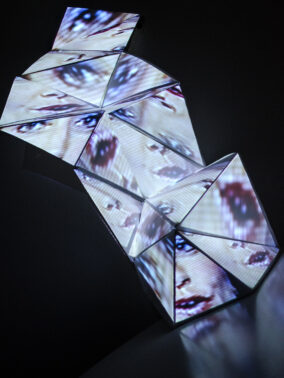 The practice of video mapping can be defined as a real-time audiovisual performance in which the production and mixing of visual elements fuse with physical space, giving rise to new virtual architectures and new ways of perceiving reality.
During this laboratory-workshop we will make a historical journey through the techniques and aesthetics associated with the projection of images in the physical space, from the invention of the magic lantern, to the aesthetics of the remix and the current paradigms of augmented reality. We will analyze the processes of creation and conceptualization of video performances in real time and we will learn to design and program software tools for VJ and video mapping using Processing (Java), a free and extensible programming environment, being able to generate and manipulate images in time and adjust the projection of images on complex and irregular surfaces. We will use the video as a creative instrument to generate synthetic perceptions and for the appropriation of spaces, volumes and surfaces.
Goals:
– To study the technical and aesthetic context of the creation and projection of images in the physical space.
– To develop programming skills in the Processing environment.
– To build your own software that allows you to generate graphics, mix images (VJ) and adjust them from creative modes to complex surfaces (Video mapping)
Application areas:
Live video for performances, television, digital scenography, live shows, stage design, data visualization, advertising, architecture, photography, graphic design, audiovisual production.
Workshop contents:
– Study of the evolution of technologies and aesthetics associated with the projection of images on the physical space and the production of video in real time. Analysis of texts by Paul Virilio, Siegfried Zielinski and others.
– Technical and conceptual study of reference cases for the development of own VJ projects and video mapping.
– Field explorations: criteria for selecting spaces and objects, elaboration of positioning schemes.
– Overview of the operation of the main commercial software tools for VJ and video mapping: MadMapper, Resolume, Modul8.
– Introduction to Processing and to the structure of folders, libraries and code files. Fundamentals of programming: data types and operations, control structures, arrays, vectors.
Generation of 2D and 3D graphics, layered graphic construction and real-time image processing.
– Methods of mixing different input sources: a) films, b) live cameras, c) Syphon (video data transmission protocol between applications). Technical fundamentals of video, formats and codecs.
– Use of masks and mesh-warping study of videos and implementation of operations to adjust video on complex surfaces.
– Connection of physical USB MIDI controllers. Creation of a graphical interface (GUI) for the control of applications with sliders, buttons, and rotary controls.
– Set up of multiple synchronized projectors. Comparative study of techniques for choosing and assembling video projectors and other visual presentation systems. Criteria for producing various types of video mapping facilities, such as architectural or artistic mapping in a museum.
All participants will have the opportunity to show the results of their work at the end of the course.
No previous experience required.
Aimed at: people interested in applying mapping for performances, dance and theater, live concerts, installations, advertising, architecture and related disciplines. Participants are invited to bring ideas of related projects to be developed during the course.
Duration: 18 hours
Dates: 9, 11, 13, 16, 18, 20 January 2017.
Hours: 18: 00-21: 00
Registration: 120 €
In charge of:
Libertar.io
Laboratory of education in art, technology and philosophy (http://www.libertar.io)