"Exótica" drawing workshop with Andrea Gomez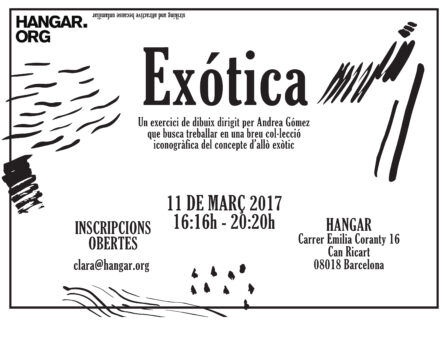 "Exótica" aims to reconfigure some ideas about exoticism from a directed drawing exercise. The purpose of this workshop is to understand by drawing as a mechanism of self-observation (and a series of audiovisual inputs in a fragmentary way) the way the idea of ​​the exotic has been transformed in the postcolonial western context in order to recover and reconstruct other meanings of the term.
A series of information about the exotic will be presented through a selection of images, sounds and the reading of texts fragments that will accompany the drawing session.
Through these observations we will try to expand the idea of ​​the exotic to re-appropriate this term from perspectives that give it a new meaning.
Calendar: Saturday 11 March from 16h to 20h
Inscription: € 20. Includes all drawing materials.
Limited spaces. To register you fill out the form at the end of this entry.
Andrea Gómez
The practice of Andrea Gómez encompasses a wide repertoire of media, from drawing and painting, video, sound experimentation and collaborative practices. Her interest has focused on the transformations of the language of the digital media starting from critical material / immaterial diocotomy. Her recent work shows the tension generated by the difficulty of reconciling the analog and the objectual with the dematerialization of information in the internet age. The interests of Andrea Gómez also reside in intersection between the scientific discourse and the magical one, where it reflects an interest by the language of the symbol like visual representation of something invisible.
She is co-founder of L'Automatica (www.lautomatica.org), Todojunto (www.todojunto.net) Dinou (www.dinou.net) and Joystick (www.jstk.org). Artist in residency in Hangar Barcelona (www.hangar.org) 2015-2017.
Selection of recent exhibitions (individual and collective): (2016) Long live the old flesh, Nogueras Blanchard, Barcelona, ​​Spain / (2016) Interval, Casa Hoffman, Bogota, Colombia / (2016) We are not so rare, Combo Gallery, Cordoba , Spain (2015) Periferia Blend, Homesession, Barcelona, ​​Spain / (2014) Metacollage, Galerie T, Düsseldorf, Germany / (2014) Les Habilitats, CCCM, Barcelona, ​​Spain (2013) Un vie à la gomme, Maserre Gallery, Barcelona, ​​Spain / (2012) Dandy, Dama Aflita Gallery, Porto.
www.andreagómez.info