Workshop: Post-digital Interface Design by Rosa Llop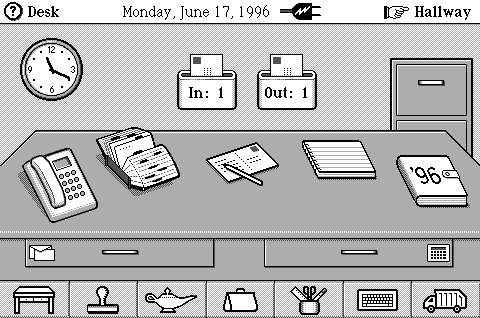 So far, the interface design has gone through three types of paradigms: a design focused on understanding how the software works, a design based on sensing its functioning through metaphorical representations, and a design based on learning an autonomous language. Of the three types, the paradigm of metaphors has been the most widespread as it has facilitated the integration of interfaces to our lives. But, despite its popularity it's a method that is not without its problems.
Metaphors, with its power of apprehension, became one of the basic principles of interaction design in the 70s. We learned to use computers because of the desktop metaphor and we still continue dialing numbers on the dial of our Smartphones even though it is entirely unnecessary to do it that way. Metaphors have served us, yes. But they have bullied our experience with digital environments.
The use of metaphors to design has three major drawbacks. The first one is that metaphors work by intuition and in order to have intuition it's necessary to have had a previous experience with what they are representing. Consequently, there are many possibilities that potential users, whether for cultural, social or economic issues, find no meaning in them because the reference is missing. Secondly, metaphors do not scale well and are totally ineffective to represent processes. We continue to keep our files into folders, which made sense when our hard drives had little space, but in an environment where we have terabytes of storage and our files are duplicated independently in different servers, the metaphor of the folders is completely useless to represent the complexity of file. Thirdly, metaphors keep us tied to the mechanical age and there is no reason for this remaining this way. The world of "brick and mortar" is filled with physical limitations that our digital products do not have to pretend.
Fortunately, with the advent of touch devices metaphors are beginning to be supplanted by interfaces based on the idiomatic learning and not on previous experience. When we speak of idiomatic interfaces, we refer to those interfaces that have language structure, that is, which are formed by morphology and syntax capable of transmitting meaning exponentially. This paradigm shift offers great possibilities for interaction design, and exploring such possibilities spends to promote critical thinking and embrace the speculative design as a tool for change.
**This workshop is part of the series of reflections on the design of graphical interfaces accompanying the IMAGIT project and will take place in the framework of the congress on Interface policy.
Objective
How does the morphology of a wearable whose interface that does not integrate a screen has to be? What syntax do we use to interact in a domotic home? These and many more questions will contextualize the course of the workshop whose aim is to give the participant a critique of the theoretical foundations of interface design approach and creative tools for design practice from a speculative and playful perspective.
Methodology
The course methodology is built from a playful approach. Through co-creation exercises we will put on the table a range of methodological tools that are characteristic of interaction design to generate speculative proposals responding in an innovative way to the patterns of everyday use interface (eg ordering photographs, make calls, access to documents , music…). The aim of these proposals is to promote critical thinking towards the practice of interaction design.
Once finished the workshop, students will have acquired methodological interaction design skills as well as a new look both to the design and the use of interfaces that can be applied in the development of their discipline.
Recipient's
Professionals and students from the fields of art and design, either of interaction, fashion, graphic, product or space. Design researchers, social sciences and humanities who want to contribute critically to the debate on the interface..
Calendar: 27 – 28 April from 16h to 20h.
Place: Hangar
Fee: Free, with previously registration
Registration: Write a email with your personal data: formacio@hangar.org
—-
Rosa Llop  She is a designer. Her interests focus on the study of visual language, media software and design culture. In 2013 she completed a BA in Art and Design focused on methodologies for design research such as co-creation, user-centered design and ethnography applied. Currently she's professor and director of the Master in Design of Internet projects, the Postgraduate Diploma in Design Graduate Apps and Intelligence Data and Design at ELISAVA-UPF. Her research line is critical software for digital publishing in relation to opportunities for graphic expression that provides its users, and systematic study of the mechanisms governing the graphic message. The result of this research has recently published the book Gustavo Gili "graphic system for book covers. Towards a language parameters "(2014).