Rarefacció: On-the-fly: Helicotrema / Olivia Jack / Daniel Moreno Roldán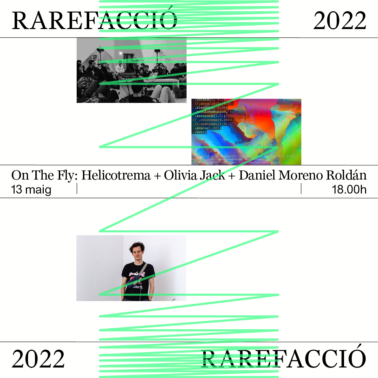 On May 13th at 6 pm Hangar presents the fifth session of Rarefacció, a listening cycle curated by Sergi Botella that aims to present proposals that revolve around music and sound from an experimental and unconventional point of view. The guests for this session are Helicotrema, Olivia Jack who will be joined by experimental musician George Adje, and Daniel Moreno Roldán in collaboration with Estel Boada.
Helicotrema / Olivia Jack in collaboration with George Adje / Daniel Moreno Roldán in collaboration with Estel Boada

Date: May 13, 2022
Time: 6 p.m.
Price: € 5
Buy your ticket HERE
Mario Ciaramitaro, together with Blauer Hase and Giulia Morucchio organize the recorded audio festival Helicotrema dedicated to the presentation of narrative, multidisciplinary and experimental sound works through collective listening sessions. Between 2012 and 2020, Helicotrema has hosted more than 400 authors and artists working with sound, exploring the possibility of a collective listening situation in dialogue with specific locations such as foundries, ships, greenhouses, museums and astronomical observatories.
Olivia Jack in collaboration with George Adje
She is an artist and programmer who uses open source software, mapping, live coding and experimental interfaces for the realization of her works. She has developed several browser-based creative tools such as Hydra (live coded video synthesizer),PIXELSYNTH and LiveLab (peer-to-peer media router). Her live visual sets explore algorithmic representations of unpredictable and chaotic systems, and software writing as a messy and ephemeral process.
Daniel Moreno Roldán in collaboration with Estel Boada
Daniel Moreno Roldán is a long-term artist-in-residence at Hangar, as well as a music producer and sound designer. Through his practice he works with referents that, due to their digital nature -supposedly immaterial and non-tangible-, tend to fade away. He reflects on issues of obsolescence, nostalgia and temporality, through the use of a multitude of formats -music, installation, video, etc.-, but usually understood under the codes of the scenic and performative. He is a member and co-founder of the Video Game Club, a group of people interested in video games beyond being forms of entertainment, which meets bimonthly in Hangar. With Estel Boada he is part of the electronic music project SOSUN.dance, for which he composes songs using obsolete computers and video game consoles.
All the performances in this session are part of the European project On-the-fly and receives support from Creative Europe.
The event will be carried out following all security measures.

With the support of:


In collaboration with: