Coworking area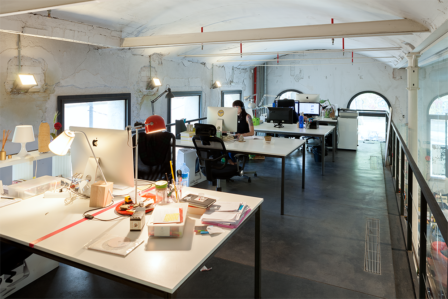 The coworking space is aimed at sectors of the creative cultural field such as film, design, advertising, architecture, software programming, and so on. It is located in Hangar's Microfugas building, in a 70m2 rectangular mezzanine. It is a completely open space with natural light.
The space is distributed in 6 tables of 2x1m.
Rates
80 € + VAT per seat (plus €150 deposit to be paid at the beginning of the contract)
 What's included
– Access 24 hours a day, 7 days a week.
– Electricity and water charges, fiber optic internet included.
– Access to kitchen, with fridge, microwave, coffee maker, stove.
– Access to the garden area and terrace with table for eating or meeting outdoors.
– Discounts on Hangar rates (plotter, equipment rental, space rental, video stations and courses).
– Help in the diffusion of the projects of the co-workers through a space to our web and to the periodic communication in the newsletter, twitter and facebook.
– Free advice within the framework of open Thursdays in the following areas: production, electronics and interactivity, musical electronics, streaming, public art and copyright in the audiovisual field.
The duration of the contract is a maximum of one year with the possibility of renewal.
At the coworking space of Hangar you will find:
Sergi Esgleas – Graphic designer and illustrator.
Ferran Milan – Typographic design, visual communication and teaching.
María Ochoa – Brand identity, art and creative direction, visual communication.
Adaia Teruel – Journalist, filmmaker and writer. She writes articles, chronicles and profiles for several digital media.
Victor Lavega – Graphic design, digital design and advertising graphics teacher.
Heeey – Generative artist, architect and designer.
Contact
Esther Doblas
+34 93 308 40 41 ext.25
coworking(at)hangar.org