Coworking area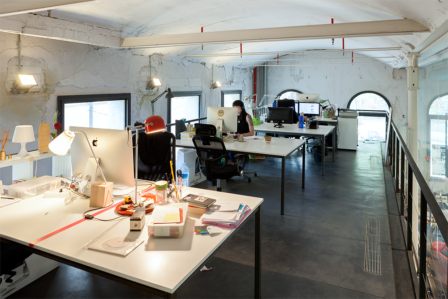 The coworking space is aimed at sectors of the creative cultural field such as film, design, advertising, architecture, software programming, and so on. It is situated in a Hangar Microfugas building, in a rectangular attic of 70m2. It is a totally diaphanous space with natural light.
The space is distributed in 6 tables of 2x1m. Each table can hold up to four people working.
Rates
Table for 1 to 2 people: 110 € + VAT
Table for 3 to 4 people: 160 € + VAT
It's included
– Access 24 hours a day, 7 days a week.
– Electricity and water charges, fiber optic internet included.
– Access to kitchen, with fridge, microwave, coffee maker, stove.
– Access to the garden area and terrace with table for eating or meeting outdoors on sunny days.
– Discounts on Hangar rates (plotter, equipment rental, space rental, video stations and courses).
– Help in the diffusion of the projects of the co-workers through a space to our web and to the periodic communication in the newsletter, twitter and facebook.
– Free advice within the framework of open Thursdays in the following areas: production, electronics and interactivity, musical electronics, streaming, public art and copyright in the audiovisual field.
The duration of the contracts is a minimum of three months and a maximum of two years.
Contact
Ludovica Michelin
+34 93 308 40 41 ext.25
coworking(at)hangar.org