GRAPA, artistic residency programme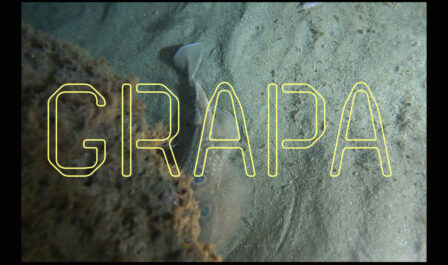 GRAPA is an artistic residency programme promoted by the Centro de Cultura Contemporánea de Barcelona (CCCB), Hangar and the Universitat Oberta de Catalunya (UOC) that aims to open up, accompany and narrate creative processes at the intersection of art, science and technology. The project proposes that artists open up to a shared accompaniment between complementary institutions that facilitates research, production and mediation during a certain phase of their project's development.
At the same time, GRAPA is a tool for observing and correlating artistic processes with the aim of generating knowledge about the creation of projects that are fully situated in interstitial spaces, straddling disciplines and institutions. Finally, it is a space for institutional and inter-institutional learning to imagine specific forms of accompaniment according to each project, imagining different frameworks, objectives and methodologies.
GRAPA is the first pilot programme of Red-ACTS, a network promoted by the UOC and the Hub d'Art, Science and Technology, Hac Te, with the support of the Daniel and Nina Carasso Foundation.
Throughout 2023, GRAPA will accompany the work of artists Sílvia Zayas with the Ruido ê project and Joana Moll with the Ad Tech Constellations project.
GRAPA is coordinated and supervised by Clara Piazuelo.
Ad Tech Constellations
GRAPA Residency with Joana Moll
Despite being the main business model of the internet, the Ad Tech (Advertising Technology) ecosystem is surprisingly unknown to most of its users. Business models are not neutral, they are built through a series of choices embedded in a specific cultural, social and economic context and play an important role in defining how resources are organised, managed and activated. Ad Tech, like any other industry, is articulated around a well-oiled set of human choices that respond to particular interests. Moreover, the decisions embedded in this gigantic but incredibly opaque maze of intertwined contingencies (algorithms, tracking technologies, devices, data centres, electricity, marketers, designers, engineers, CEOs and, above all, user data) are made by millions of users every day. In this way, decisions made by a few are applied blindly by the masses, leading to increasing centralisation and rigidity of this ecosystem, ultimately increasing its vulnerability and exposing it to collapse.
This project aims to provide in-depth knowledge of how the Ad Tech ecosystem works, as well as providing enough information and new methodologies and materials for other communities to continue to advocate for digital and climate rights, and to improve ethical and sustainable practices within the Ad Tech industry.
Beyond outlining the key technical elements and processes that form the backbone of Ad Tech, we will pay attention to the 'intangible layers' that are inextricably linked to it, such as decision-making processes, energy consumption, environmental impact and the emotional toll on users who are exhausted and exploited by free labour. What would happen if we were able to represent the complex web of entanglements that construct ad tech, what potential new dynamics would emerge by allowing users to embody the role of a cookie, an ad, an RTB algorithm, a DSP, an energy consumer or a tech CEO?
Ad Tech Constellations is a project by Joana Moll in collaboration with the HGK FHNW Basel, starting in 2023 and conceived as a three-year action research process.
ruido ê
GRAPA residency with Sílvia Zayas
ruido ê explores the tensions between different modes of underwater perception and deals, in a speculative and experimental way, with the ecological problem of the effects and impact, sometimes lethal, of anthropogenic noise on the bodies, acoustic systems and orientation of marine animals.
ruido ê works with a species of electric ray called Torpedo Torpedo, a species that lives close to the coast, in urban areas, popularly called "tembladeras" because they make you "tremble" when they shock you. noise ê focuses on perception and the notion of noise, not only as an acoustic impact, but also as the impossibility of reading what we don't yet know.
The GRAPA accompaniment of Silvia Zayas is planned in an advanced phase of the project, in which the aim is to activate a study group that will function as a space for knowledge transfer and experimentation, in which different aspects that will contribute to the development of a film will be worked through: the construction of a low-tech underwater recording device; a workshop on somatic attention; a session with marine biologists; a collective snorkelling or the recording of a video clip.
The sessions will focus on methodological experimentation and will have a network of collaborators, including artists, scientists and researchers: Mar Medina, Susana Jiménez Carmona, Carmen Pardo, the Sasba Badalona diving club team, Cris Blanco, Xose Quiroga, Miguel de las Heras, Anabel Colmenero, the Catsharks Association, Claudio Barría and Michel André.
ruido ê ruido is a long-term, networked artistic research and production project supported by the Daniel and Nina Carasso Foundation.
Silvia Zayas works on the boundaries between performing arts, film making and expanded choreography. For years now, she has been looking into ways of using the language of film in various other performance devices, working with different types of perception and attention. Her films will attack you through ghosts, holes and exclusion, impossible instruments, underwater experiences, explosions, childish matters and the fiction of memory, strange imagined worlds, historic imprints and all those things that we cannot yet know.
To her, the artistic act is a set of long-term shared research processes. Examples include Jumping Scales (2017-2018), the activities carried out in parallel to the production of O, an instrument she has created with Ana Cortés and Miguel Aparicio, or even this project itself: ruido ê. Her most recent work includes, among others, São Tomé Revisitado (2012), which she carried out in collaboration with her mother, Isabel Serra; Parallax (2016), a light and sound stage work; the films The Boogie-Woogie Ghost (2018) and Puebla (2021), which she made together with María Jerez; the projects Brilliant Corners (2020) and Brillante (2020-2022), both of them as part of the Orquestina de Pigmeos collective; and the individual exhibition ê held in Nave 0 in Matadero Madrid.
Joana Moll is an artist and researcher who splits her time between Barcelona and Berlin. Her work explores from a critical point of view the way techno-capitalist narratives affect machines', humans' and ecosystems' literacy. Her research focuses mainly on the materiality of the internet, surveillance, social profiles and interfaces. She has presented her work at renowned institutions, museums, universities and festivals all over the world, including the Venice Biennale, MAXXI, MMOMA, Laboral, CCCB, ZKM, Bozar, the Berlin Natural History Museum, the Museum of Applied Arts (MAK) of Austria, Ars Electronica, HeK Basel, the Photographer's Gallery, the Korean Cultural Foundation Center, the Chronus Art Center, New York University, Georgetown University, Harvard University's Berkman Klein Center, Rutgers University, the University of Cambridge, Goldsmiths, University of London, the University of Illinois, Concordia University, the Universitat Autònoma de Barcelona (UAB), ETH Zürich, the École d'Art d'Aix-en-Provence, the British Computer Society, The New School, CPDP 2019, Transmediale, FILE and ISEA, among many others. Her work has been widely featured in international media including, among others, The New York Times, The Financial Times, Der Spiegel, National Geographic, Quartz, Wired, Vice, The New Inquiry, Netzpolitk, El Mundo, O'Globo, La Repubblica, Fast Company, CBC, NBC and MIT Press.
She is a co-founder of the Critical Interface Politics research group at HANGAR (Barcelona). She has received a BBVA Foundation grant and is a researcher in residence at Berlin's Weizenbaum Institute. At present, she is a guest scholar at the Elisava School of Design and Engineering in Barcelona, as well as an art researcher in residence at the HGK's Critical Media Lab in Basel.
Clara Piazuelo is a writer and researcher and carries out artistic projects that question the ways we live with each other. She is a member of DU-DA, where she carries out projects that activate collective processes and strike a chord with those who criticize hegemonic power structures. She has co-written and edited the publications Morir Guay. Voices y Relatos para no tener miedo and Mediums. Una exploración colectiva sobre lo invisible. Her first novel, Año del Caballo, was published by Ediciones en el mar in 2020. She has been head of Hangar's Knowledge Transfer department, carrying out art-related education and research projects, for 10 years. She has taught in the Master's Degree in Artistic Research and Experimentation at the BAU Design College of Barcelona and has been a guest at international universities such as the FLACSO University in Quito (Ecuador) and Veritas University in San José (Costa Rica), as well as at cultural institutions such as ZKM (Karlsruhe), Laboral, MACBA, MNCARS, Tabakalera, CCCB and La Casa Encendida.