Entreteixides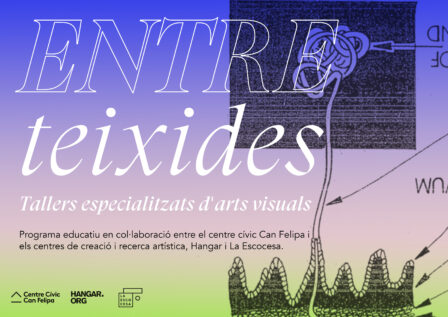 Visual arts educational programme that arises from the collaboration between the Can Felipa Civic Centre, Hangar and La Escocesa.
Entreixides is a programme that aims to encourage the generation of content at the Can Felipa Civic Centre by means of specific workshops given by artists and cultural producers operating in the context of Hangar and La Escocesa. The aim of Entreixides is to promote and establish cooperative and participatory methodologies aimed at transversal and transgenerational audiences; a multiplicity of affected bodies* that will refer to and expand the field of action of the three centres. For this reason, it is essential to forge alliances and share – not only resources, but also lines of thought and action – between partner institutions, an essential task in the methodological proposal of a programme that is based on interaction and coexistence.
The selection of the workshops that are part of the Entreixides programme is carried out through an internal call for proposals twice a year during the months of February and July and is aimed at artists and cultural producers from Hangar and La Escocesa. From the proposals received, two workshops are chosen to be included in the quarterly programme of the Can Felipa Civic Centre. The proposals that are not selected will be considered to be part of future workshop programmes at the Can Felipa Civic Centre.
*Denise Ferreira da Silva