Image & sound lab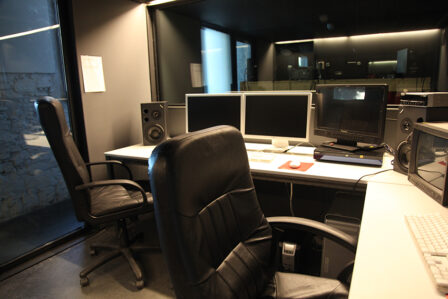 Audio and video editing room
Service for video and sound editing and post-production. It has a 10m2 acoustically conditioned and air-conditioned editing room. We offer the possibility of hiring, together with this service, specialized technicians.
The room has hardware and software for audio and video editing.
Consult the list of hardware and software available here.
Scanning
Scanning of negatives and originals with a professional scanner.
Audiovisual equipment rental
Professional video, audio and photography equipment rental service.
Check the list of the equipment here.
Remember that these services must be booked in advance.
For further information
Marc Ribera
+ 34 93 308 40 41
marc(at)hangar.org