Open Thursdays consultancies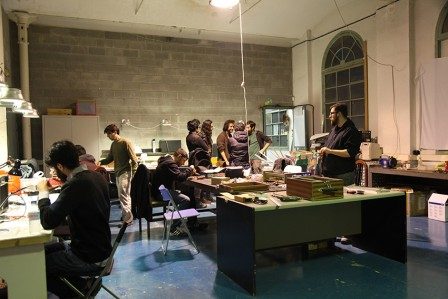 * Due to the current measures of social distancing derived from the crisis of the Covid-19, the Open Thursdays program will be held virtually in the Matrix/Riot chat, every Thursday from 5 to 9 pm.
+ info
#OpenThursdays are weekly meetings open to artists, creators and developers of different disciplines of electronic art who want to work with free hardware and software tools. The assistance is always free and allows participants to meet with technology experts, on Thursdays from 5 to 9 pm, in free and collective tools with which to collaborate and share resources to develop projects.
From the laboratories of Hangar we offer consultancies, and in parallel, the resident collectives are added advising respectively on musical electronics, intellectual property, digital manufacturing, virtual reality and DIY biology. If you are interested in receiving advice on any of these topics, you can write an e-mail and request an appointment.
Befaco's consulting services take place on Fridays as part of the Soldering Fridays.
Labs:
– In the Interaction Lab, consultancies are offered for people who are developing projects with free software and hardware and are not aware of the technical issues, but they need support to solve problems, reorient the development or know alternatives. Contact: miguel(at)hangar.org
– In the Production Lab, consultancies are offered for issues related to production, realization of feasibility reports, budgets and production coordination. Contact: pense(at)hangar.org
– In the Construction Lab, technical assistance is offered for questions related to the manufacture of a work, as well as support for construction problems, reorientation in the development of parts or manufacturing alternatives or materials. Contact: pense(at)hangar.org
Collectives:
– Befaco offers advice on topics related to musical electronics and DIY modular synthesizers. Contact: befacosynth(at)gmail.com
– Hamaca offers advice on intellectual and technical property related to video. Contact: eli(at)hamacaonline.net
– IMVEC offers advice on issues related to ECOforense research and training and the design of DIY pollution detection tools. Contact: imvec(at)tutanota.com
– BeAnotherLab offers advice on topics related to the development of virtual reality. Contact: beanotherlab(at)gmail.com
– TMTMTM offers advice in the fields of digital manufacturing, research and two-way transmission of knowledge. Contact: info(at)tmtmtm.xyz
– TOPLAP offers advice in the field of live coding as a sound and visual creation technique. Contact: toplapbarcelona(at)hangar.org

Monthly meetings:
– Guifi.lab: the so-called guifilabs are monthly meetings aimed at acquiring knowledge and exchanging experiences related to the guifi.net network or communication technologies in general.