Rarefacció: h waas / Alfredo Costa Monteiro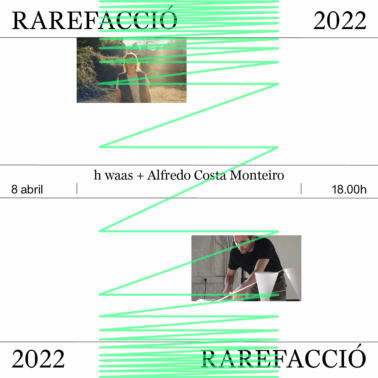 On April 8th at 6 pm, Hangar presents the first session of Rarefacció, a listening cycle curated by Sergi Botella that aims to present proposals that revolve around music and sound from an experimental and unconventional perspective. The guests for this first session are h waas and Alfredo Costa Monteiro.
h waas / Alfredo Costa Monteiro

Date: April 8, 2022
Time: 6 pm
Price: € 5
Buy your ticket HERE
h waas (Helga Juárez) is a musician and visual artist. She began studying piano and accordion at the age of six, but soon left the conservatory to experiment with music in a self-taught way, both with cymbals and with drums and synthesizers. After being part of different musical initiatives of the Barcelona underground scene, in 2015 she decided to start her own project, h waas. Parallel to music, Juarez develops graphic and audiovisual projects from a non-narrative perspective, intuitive and with an abstract aesthetic. She is currently responsible for the music program El Lago at Dublab Bcn.
Alfredo Costa Monteiro is a sound artist, improviser, composer and sound poet born in Porto, Portugal. He lives and works in Barcelona since 1992, year in which he graduated in sculpture/multimedia with Christian Boltanski at the School of Fine Arts in Paris.His installations and sound pieces are made from unstable processes, conceptual restrictions and forms of an often disconcerting simplicity, where the manipulation of objects as instruments or of instruments as objects has a strong phenomenological aspect. Since 1995 he has been involved in several improvised and experimental music projects, using each time a different instrumentation such as accordion, prepared guitar, turntable, electroacoustic devices or resonant objects, to give each of these projects a particular identity.
The event will be carried out following all security measures.

With the support of:

In collaboration with: