One Drone Day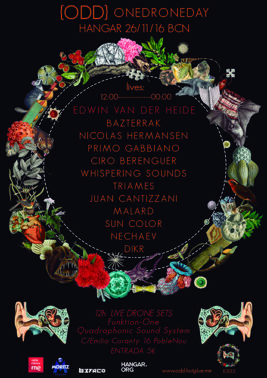 One Drone Day is an immersive music festival which produces its 2nd edition on Saturday the 26th of November, during an intensive 12h journey with no pauses.
This sonic event is characterized by the absence of light/visual stimuli, mainly focusing on the auditive layer in an immersive mode. Audience enjoys several live sets in horizontal position or a comfortable position. The audience and listening are central and artists are performing live sets along the perimeter of the room. Live Music Drone during 12h in a unique space with quadraphonic sound system for a relaxed listening, introspective and psiconautics.
Drone music is characterized by the absence of rhythmic patterns. Sonic fluxes of variable intensity which develops narrative changes into microscale (textures, timbers, particles, etc) expanded in very large time scores.
OneDroneDay features the electronic artist Edwin Van Der Heide, that will offer a special live set in this year's edition.
On saturday the 26th of november we'll have the pleasure to have a well known sonic interaction researcher (Edwin Van Der Heide) who will offer an special live set in this edition. Also in ODD'16 we are joining the next artists: Ciro Berenguer, Dikr, Nicolas Hermansen, Malard, Bazterrak, Sun Color, Primo Gabbiano, Whispering Sounds, Triames, Juan Cantizzani i Nechaev. All this proposals has been selectionated in a long process of application/jury through an open call. In the Jury process we (ODD Team) also had the support of Van Der Heide and Miguel Álvarez Fernández, Ars Sonora director, a Radio program at Rne / Radio Clásica.
All the proposals in One Drone Day are offering Drone Music Live sets with no stops. This Genre includes proposals of electronic with specialised software, modular synths, custom circuits, filter pedals applied to guitars or another ressonant intruments/objects among other tecniques. The same genre has inspired the crossing over mix among sessions. In this sense it will be fusionated the final of a live set with the next, creating a continuous immersive sonic experience during all the event.
You can follow the activities and get more information in the web or in the social media Facebook y Twitter @OneDroneDay. 
Schedule: 12'00h – midnight
Donation: 5€