Rarefacció 3: Merche Blasco / Patiño & Schuttel / Senzu Beans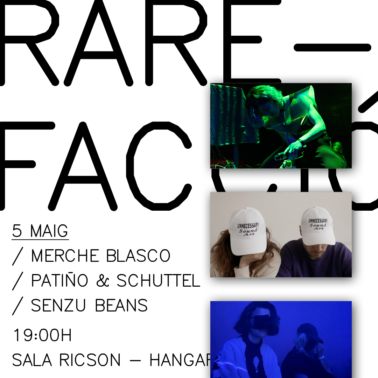 On May 5th, Hangar presents the third session of this year's edition of Rarefacció, a listening cycle curated by Sergi Botella that is part of the Audio Formal/Politics of Listening research line and aims to present proposals revolving around music and sound from an experimental and unconventional point of view. Guests for this session are Merche Blasco, Patiño & Schuttel and Senzu Beans.
Merche Blasco / Patiño & Schuttel / Senzu Beans
Date: May 5th, 2023
Time: 19 h
Venue: Sala Ricson, Hangar
Price: € 9 + drink
Tickets
Merche Blasco
For Rarefacció, Merche Blasco will present Fauna (solo set) – Performance for a quadraphonic system, a live improvisation with custom-made instruments/artifacts used to process field recordings, incorporating body movements and live exploration of intricate material textures.
Patiño & Schuttel
Patiño & Schuttel are interdisciplinary artists working across sound and performance. Kay Schuttel's practice investigates the performativity of daily gestures, the evolution of corporeal vocabularies, and the intersection between choreography, visual art and text. Intrigued by social codes and unwritten rules embedded in everyday behavior, Schuttel explores the performative aspects of the habitual, focusing on the genesis of new languages and bodily movements generated by the evolution of communication tools, recording devices, and mediated daily rituals.
Rubén Patiño explores sound generated by electronic means and its potential to transform the perception of space (imaginary, physical, and social). His practice tends to challenge standardized formats of presentation and explores the boundaries between concert, public event, and installation.
Patiño & Schuttel will present at Rarefacció Skin Careless, an audiovisual piece that combines text, voice and multi-channel sound.
Senzu Beans
In the Dragon Ball universe, Senzu Magic Beans are rejuvenating seeds cultivated by an 800-year-old cat named Karin. When eaten, the user's energy and physical health are instantly restored to maximum levels, making these seeds a great asset both in and out of battle.

Supported by: