Rarefacció: Emilio Bernè / Kentaro Terajima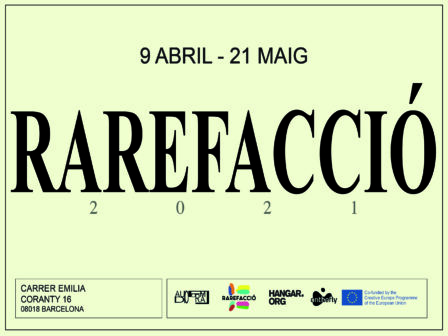 On April 9th at 6 pm, Hangar presents the first session of Rarefacció, a cycle curated by Sergi Botella that aims to present proposals that revolve around music and sound from an experimental and unconventional perspective. The guests for this first session are Emilio Bernè and Kentaro Terajima.
Emilio Bernè / Kentaro Terajima
Date: April 9, 2021
Time: 6 pm
Price: € 3 + tote bag as a gift
Rarefacció's audio will be available live at https://live.hangar.org/#rarefaccio
Emilio Bernè is a drummer and improviser whose approach is oriented on abstractionism and noise with the idea of extended sound of simulated electronics through the use of amplified metal strings and spinners on an electro-acoustic drum set combined with a input mixer.
Kentaro Terajima is a graphic designer from Tokyo and currently lives in Barcelona since 2010. Since his first trip to Berlin in 1998, music, especially techno is a part of his life. Sometimes it occupies more and the other time less, but it is always there. He organizes and participates in some parties and cultural activities from time to time.
The event will be carried out following all security measures.
Attendance will be on a first-come, first-served basis.